Do you burn CDs or DVDs of your photos, your presentation, or your playlists? If so, and if you want your disc, its case and insert to have a slick, professional look, take a look at SureThing CD Labeler Deluxe ($25, 15-day free trial).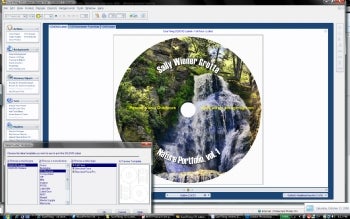 SureThing CD Labeler is an intuitive, easy-to-learn program. First, select the type of project you want to create: a Disc Label, a Disc with Jewel Case, a Disc with DVD Case, a Disc with Inserts, or a Mini-Disc. Select a template to use as your starting point. (You can pick another later, if you wish.) Choose the background you want from the supplied clip art, or from among your own pictures. You can scan directly into SureThing or create a collage of pictures to use as your background. The Picture Touchup & Effects window offers various picture effects or tools for adjusting the exposure, focus, or color of your image.
Then, double-click the text placeholders to place your own text. Or, delete and add text boxes, to give it a more custom design. Text Effects include some attractive arched, circular and angular type. However, given the fact that you'll want text to stand out against the background, we were disappointed that SureThing doesn't have a simple shadow tool for selected text, which even the most basic design programs offer.
You can set up your labels to merge fields from a database. If you are burning a DVD of your music or data files, SureThing's Playlist Manager will import your playlist (or file names) onto the label, so you don't have to type them out. SureThing will even print sequential serial numbers on a group of labels.
For those projects that include cases or inserts, the SureThing CD Labeler workspace is tabbed. For instance, for our test project, we created a DVD label, with a matching case cover and a DVD insert, each in its own tab. We were surprised that after we defined the background, artist name, title and contents for our DVD label, they did not automatically populate the case label or the inserts. This was despite the fact that we had "Coordinate design layouts" checked in the Program Options. So, each one had to be created separately. At the most elementary, the name of the artist, the name of the DVD, and the content should have been automatically inserted into those fields throughout the project. It is likely this is a bug that may be fixed in future updates, since design layout coordination is one of the new features they are touting.
SureThing will print out onto just about all brands of CD labels, inserts, and case labels, including support for full-face labels. It also supports LightScribe printing. After calibrating our printer, using the included calibration print sheet, we had no difficulty outputting attractive, professional-looking labels.
If you purchase SureThing CD Labeler Deluxe in a box, it will cost $30–$5 more than a download purchase, and but the extra $5 gets you over 5,000 background and clipart images, some paper labels and jewel case inserts, plus a plastic applicator for fixing labels to discs. The download purchase has only 30 backgrounds and 50 clipart images and, of course, doesn't include the labels or applicator. You can, however, purchase the $5 applicator and various paper labels from the Website.
SureThing CD Labeler CD Deluxe is a very good program for creating effective disc and case labels and inserts. If you burn discs that you share, SureThing can make the difference between having your CDs and DVDs look homemade or professional.