SysInspector, a free diagnostic tool from antivirus maker ESET, digs into your system and reports on all the running programs, registry entries, network connections and other info it finds. Its extensive but technical reports would be of most use to those with high-end tech skills.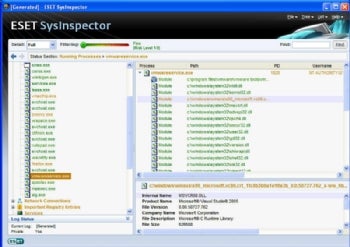 Installing and running ESET SysInspector is easy. Double-clicking it kicks off an inspection, which can take a few minutes to complete.
Reading and interpreting the inspection report, on the other hand, isn't quite so simple. Clicking any of the left-side sections such as running processes, critical files, or services lists entries on the right side, which are color-coded according to SysInspector's assigned risk level. Known safe items are listed as green, unknown items are listed in shades of orange, while risky items are red.
A slider bar can hide all known safe items, allowing you to home in on all the unknown or risky items. And as a diagnostics-only program, you won't risk clicking the wrong button in the program to accidentally delete something you shouldn't. But you'll likely want to get a second opinion, with a Web search for a process or file name, for example, before taking any action on your own. Deleting the wrong file could break a program, or in the worst case, prevent Windows from starting.
In the hands of a security expert or someone who wants to learn more about their PC, ESET SysInspector can provide valuable data. But it's not a fire-and-forget-it tool.