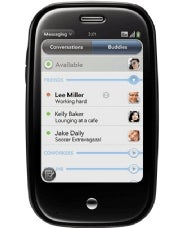 As a college student who just wrapped up my final year of classes, I find myself with a lot of free time on my hands. When a supposed iPhone killer goes on sale nationwide, I will do whatever it takes to get my hands on one to see what all the fuss is about.
Just in case you haven't been keeping up with technology news since the preview at CES, the killer gadget I'm talking about is the Palm Pre.
I live in the midsized college town of Bellingham, Washington (also known as the city of subdued excitement — that's right, the one that mentioned on The Colbert Report years ago). This morning I headed out to a few local stores that would carry the device, to see what kind of crowds were gathering.
The Usual Suspects
My first stop was a Radio Shack down the street.
Radio Shack, along with Best Buy, offer $100 instant rebates when you sign up for a two-year contract, instead of the mail-in rebate that is offered at official Sprint stores. I figured the instant lower price would draw in the crowds. I was wrong.
The scene was one typical to my experience with Radio Shack. Instead of seeing a line of people waiting to purchase the Pre, I found myself in the company of a middle-aged woman sitting on the floor looking at video cables, and a single employee trying to contain her boredom.
When I asked if they happened to have any Palm Pres in stock, I was told they weren't expecting any until the middle of August because not enough were manufactured to be shipped to every store.
I asked if any disappointed customers were turned away when they got the same news, and learned that only one customer had asked any questions about the Pre and that was several days ago.
My trip to Radio Shack proved fruitless, but surely the local Best Buy would have a few Pres in stock.
I ventured through automatic double-doors into a crowd of people and walked into a very busy mobile phone section. When I was finally helped, I asked if any Pre were in stock.
The answer to my question: "Do we have any what?"
Obviously, this wasn't my day. I asked around and learned that the only Best Buy in town happens to be one of the few that don't carry Sprint phones.
Success and Scrutiny
After several hours, a few errands, six stops, and an iced Americano, I finally got my hands on the shiny smartphone when I visited an official Sprint store.
I was pleasantly surprised. Although the casing attracted more smudges and fingerprints than my Playstation 3, the phone was sturdy, the
interface was slick, and the QWERTY keyboard was comfortable enough to use without getting cramped fingers.
When a store employee came to talk to me about the phone, I learned nearly 20 people were waiting for the Pre outside the store at 10 a.m. when it opened, and that they had been selling devices pretty steadily throughout the day.
When I left he said there were still a few in stock, but he guessed they would be gone at the end of the day.
That store was still the only one in town besides a small kiosk in the mall that had the Pre today. The fact that a few were still in stock in the early afternoon leaves me guessing that people aren't as excited about the Pre as originally predicted, or that they might be holding out to see what Apple announces in two days at WWDC.
Did you have any luck finding a Pre today? Let us know about your experience with Palm's long-awaited phone.
Also see PC World's reports, Palm Pre: An Inside Look at its Hardware and Software and our comparison, iPhone 3G and Palm Pre: Head-to-Head