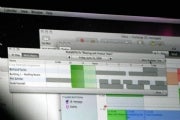 Today at Apple's World Wide Developers Conference in San Francisco, Apple announced a variety of improvements to its OS X operating system. In the new version, Snow Leopard, users will at last be able to use Microsoft Exchange without requiring the aid of outside software such as Microsoft Entourage.
In a demo of the new features, Apple Senior Vice President of Software Engineering Bertrand Serlet explained that the three built-in contact, scheduling, and e-mail apps will now feature Exchange configuration as a standard option. Users can simply enter their Exchange e-mail address and password, and Snow Leopard will automatically configure all three apps at once.
Serlet went on to demonstrate the features in action, which is a sight most Exchange users are already quite familiar with. With Exchange configured, calendar entries, e-mail folders, to-do items, notes, and other data will sync automatically between users on the same server.
This is certainly a welcome move for business users and network admins who manage Macs in their business environments. Whether it signals a more serious focus on the workplace for Apple remains to be seen.
Snow Leopard will sell for $129 in September, and will be available as a $29 upgrade for Leopard users.