Along with a storage boost, a digital compass, purportedly faster connection speeds, and the iPhone 3.0 operating system, the just-announced Apple iPhone 3GS will add a slew of new imaging and video features that should have pocket camcorder manufacturers feeling nervous. (See PC World's photo gallery of the new iPhone,)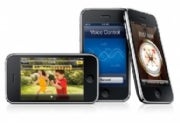 Along with a slight megapixel boost from 2 to 3 megapixels and the long-awaited capability to shoot video, the revamped iPhone camera adds a couple of software sidecars that make it an enticing all-in-one option for anyone thinking of buying a new phone, a pocket camcorder, or both. Overall video quality aside (the iPhone 3GS will shoot standard-definition, VGA video only at 30 fps), the new iPhone's editing and sharing features trump anything on board the current slew of HD and standard-definition pocket camcorders.
In the case of pocketable, easy-to-use camcorders such as Pure DIgital's Flip UltraHD and the Creative Vado HD, the key trade-offs are fewer features and lesser overall video quality in exchange for sheer convenience and portability. Most of these bare-bones video cameras have flip-out USB connectors and embedded software that makes sharing clips over YouTube and other services as easy as possible.
With the iPhone 3GS, it looks like handling video is about to get even easier for the YouTube generation. Not only can you make basic edits to your clips on the iPhone itself, you can also upload your videos to YouTube (or MobileMe) and share them via e-mail or MMS right from the phone. The only thing more convenient than uploading clips via a flip-out USB connector is being able to do so without any hardware connection whatsoever.
The on-phone video editor is something that no pocket camcorder has at the moment. In the Flip line of camcorders, for example, the FlipShare editing and sharing suite launches when you plug the camcorder into a computer; you can't trim clips directly from the camcorder. Apple simplified the entire process of digital video editing with the first release of iMovie in 1999, so we expect the on-board video editor to be dead-simple and effective. Already a video tutorial on Apple's site shows the entire process of shooting and editing a clip.
Long story short, the new iPhone might be a groundbreaking tool for roving reporters and bloggers. It's an all-in-one camcorder, post-production suite, and broadcast tower.
The new iPhone's video capabilities also borrow handy features from more-expensive cameras and camcorders, such as the Sony Handycam HDR-XR520V, HDR-XR500V, and HDR-XR200V. Namely, the ability to geotag your videos with the iPhone's GPS function — and I'd assume somewhere down the line, the capability to embed those geotagged clips in a map and watch clips shot at the location of your choice.
On the still camera side of things, the 3-megapixel resolution isn't likely to put your DSLR out of a job, but Apple wisely focused on features rather than on a bloated megapixel count. With a lens and sensor the size of the optics on the iPhone, a higher megapixel count would likely have just made for lower-quality images that you could blow up and crop more easily. A big, crappy picture is still a crappy picture.
Instead, the revamped iPhone still camera adds an autofocus system and a macro lens, and it borrows handy tricks we've seen on touchscreen point-and-shoots such as the Panasonic Lumix FX500. Simply touching a subject on the iPhone screen brings that object into focus.
And then there's that whole wireless connectivity thing, which was the talk of CES when Sony unveiled its Wi-Fi-enabled, $500 Cyber-shot DSC-G3. So for $200 less (if you pick the 32GB iPhone 3GS) or $300 less (for the 16GB iPhone 3GS), you'll be able to get the Cyber-shot DSC-G3's killer (if underperforming) feature set — Web connectivity and a browser — plus all those other iPhone goodies. Not a bad deal at all.
Of course, we haven't had the opportunity to test any of the video or still-photo features on the new iPhone, but in theory, this much is true: the iPhone 3GS looks like the camera phone to be reckoned with, low megapixel count and all.
PC World coverage of the 2009 Apple Worldwide Developers Conference:
New iPhones, New MacBook Pros, Snow Leopard, and iPhone 3.0 Unveiled at WWDC
WWDC 2009 Keynote: Complete Live Blog of the Event
Apple's WWDC — Few Surprises, Few Innovations