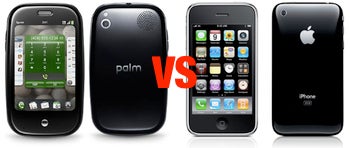 The guessing game is over: Apple's iPhone 3G S has arrived. Don't let appearances fool you. On the outside nothing looks much different with the 3G S. The real difference is what's inside. So how will Apple's iPhone 3G s compare to the Palm Pre? I've put together a chart for a quick glance at how they stack up (see below). For a more in-depth analysis, read on.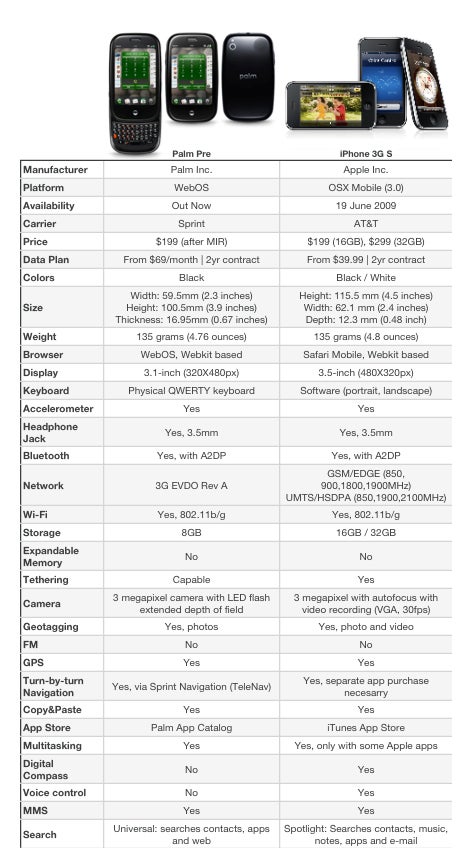 The main difference is quite obvious — for the same price as a 16GB iPhone3G S you only get a 8GB Palm Pre. In comparison, the current generation 8GB iPhone 3G dropped in price to $99, going after Pre's lower capacity storage.
For just $100 more than the Palm Pre (that is if you get your $100 mail-in rebate) you can get a top-notch iPhone 3G S with a whopping 32GB of storage (four times more than the Pre).
However, the Palm Pre offers a better deal against the iPhone 3G S when it comes to the data plan. AT&T did not reduce its iPhone tariffs, so the Pre on Sprint still offers more for the buck when it comes to data, voice and text plans.
Both the Pre and iPhone 3Gs have a 3-megapixel cameras; however, there are some major differences in features. The Pre's camera has an LED flash, but no autofocus, video recording or editing capabilities. You also cannot adjust white balance or exposure.
Apple did not throw in a flash for this generation, but the iPhone 3Gs brand-new camera gets some pretty nifty features nonetheless. You can now control focus either by tapping on the screen or using the autofocus feature.
But perhaps the biggest edge the iPhone 3G S's camera has over the Pre is its video recording capability. You can record 30fps VGA video with audio by simply going into the camera app and switching from still to movie. Autofocus, auto white balance and auto exposure features apply to video, as well.
Video recording was long overdue for the iPhone, especially since it is a feature that most low- to mid-range phones carry. Even better: You can edit your videos with a tap of the finger by picking an in-point and end-point and hitting "trim." Then, you can tap the share button to send over e-mail, MMS, MobileMe gallery, or YouTube-pretty cool.
But the new iPhone 3G S also matches in features some of software advantages the Pre had over the 3G model. The 3G S has now copy and paste, MMS, tethering (coming later this year), A2DP Bluetooth capability, geotagging (photo and video) and turn-by-turn navigations.
While none of the two phones features a FM receiver/transmitter, the iPhone 3G S has a built-in digital compass and voice controls over the Palm Pre. On the downside, the new iPhone still doesn't feature a removable battery or a hardware keyboard (but nobody was expecting the 3G S to have one, anyway).
There is also an essential advantage the iPhone 3G S has over the Palm Pre — it's the App Store. Apple packs over 50,000 apps in its store while Palm's App Catalog is still at the beginning of the road, with 12 apps available and a store in beta stage.
Apple claims a muchly-improved battery life on the 3G S, which would be a welcome addition to the not-so-acclaimed 3G's lifespan between charges. But then again, the Palm Pre didn't score too well either. Meanwhile, iPhone 3G S's battery shall withstand the usage test when it comes out in just under two weeks.
But the final battle between the iPhone 3G S and the Palm Pre will be carried out on June 19, when Apple's new device is to hit the stores. Besides the obvious storage capacity and price difference, each buyer will have to carefully consider whether they really want a physical keyboard or a LED flash for the phone's camera.
Which one will you choose?
Follow Daniel on Twitter @danielionescu
When you purchase through links in our articles, we may earn a small commission. This doesn't affect our editorial independence.