With the iPhone 3G S news now in the wild, the discussion digressed from the announcement of the 3G S itself to AT&T, the iPhone's exclusive carrier in the U.S. (at the moment). Without a doubt, this relationship is where Apple's weaknesses lie.
The S is (Supposed to Be) for Speed
Over the last couple of years, many iPhone customers have complained about AT&T's signal coverage quality across the country, including those in some densely populated areas. And while the carrier plans to improve its network over the coming years, by then, this would be the iPhone 3G S's (or any follow-up device's) soft point.
The iPhone 3G S can work on the much faster HSDPA network, with speeds up to 7.2 Mbps, but AT&T will start rolling this network technology only later this year and will complete the transition is 2011. This means that nationwide, two more iPhone generations will have to bear lower speeds on their devices.
MMS and Tethering on Standby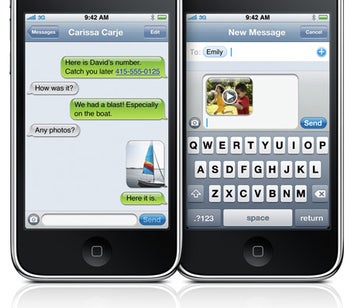 As my colleague Ginny Mies points out, MMS and tethering (iPhone as a modem) have been on the top of iPhone users' wish lists for quite a while now. And with the arrival of the 3.0 software update and the 3G S itself, these long-awaited features are finally there. Somehow there, that is.
U.S. customers won't have the benefit of MMS until late summer because AT&T is still "finalizing internal system upgrades." Tethering is not on the list either until later this year, because the carrier is reportedly working on some sort of data plan mash-up between data and tethering for around $60 to $70 per month. And, no, this price doesn't include texts.
A Hefty Price for an Early Upgrade
The carrier announced that only new and upgrade-eligible customers will be able to pick up a 3G S for the advertised prices of $199 (16GB) and $299 (32GB), or even an iPhone 3G for $99 (8GB).
Existing iPhone 3G customers, who endured those long queues last July, will have to shell out $599 for a new 16GB 3G S and respectively $699 for the 32GB model. Alternative upgrade pricing comes at $399 and $499.
If you plan on taking on a different route to paying the upgrade prices, AT&T will charge you around $175 to cancel your current contract and only 90 days later (after losing your phone number) you can sign up again for a new iPhone contract.
Crippling iPhone Apps Development
Besides Apple's iron fist on good taste within its App Store, AT&T plays a crucial role in the feature set of certain apps. This year we have seen two major apps getting crippled by AT&T's terms of service: Skype and SlingPlayer.
Both Skype and SlingPlayer for iPhone work only via Wi-Fi, although theoretically these tasks could be performed over a strong 3G network as well. But that would have a put a much larger strain on AT&T's network, which was already shook up at the South by South West Festival just a couple of months ago.