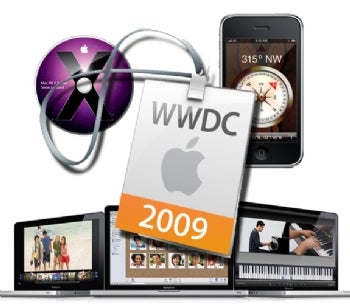 Apple's keynote address from its Worldwide Developers Conference may be over, but the dust surrounding the event has not yet settled. Overall, many fans were happy to see what Apple announced during the speech, but there were also howls of derision directed at AT&T, and sometimes even Apple.
Here's a breakdown of the reactions:
AT&T
AT&T is getting slammed right now for to its inability to keep up with international iPhone carriers. Unlike other iPhone users around the world, AT&T customers will have to wait until later this summer to use fancy new iPhone features like Multimedia Messaging and tethering.
Dan commenting on the iPhone blog kept it simple and said, "AT&T sucks, period." KRG over on CrunchGear, meanwhile, made a crack about AT&T service: "Why would you want to make calls [with the iPhone 3G S]? I didn't think that was a working feature in the old iPhone 3G anyway."
Blogger Matthew Schulz is starting his own grassroots campaign against AT&T on Twitter: "ACT NOW: Tweet @ATTNews re: WWDC FAIL! We can make a difference!"
Weighing in on the iPhone 3GS pricing debate, Technologizer and former PC World editor-in-chief Harry McCracken said he has no sympathy for iPhone 3G users who may have to pay more to get the new iPhone. That set off an interesting debate. Commenter Michael started his argument with a literary allusion: "Harry McCracken . . .You're a Douche." But John Doe was quick to defend the Technologizer with a counterpunch directed at Michael: "Wait, someone disagrees with my whine? Let me attack them."
iPhone 3G S
The new iPhone is supposed to be faster than current models. It has a compass (something that got one WWDC audience member a little too excited), and an upgraded still camera with video functionality.
But some people just weren't buying it, literally.
Commenting on TechCrunch, J said, "'S'is for SUCKER. $199 is bulls*&t for those of us who have been using the 3G." But Josh disputes J's interpretation telling CrunchGear readers, "More like 3G$, amirite?" Fellow CGer Cameron said, "…prices are too high in my opinion just for a compass and a 3 MP camera. I could go to walmart and by [sic] the both for probably 80 bucks."
Meanwhile, blogger Geoff Livingston on The Buzz Bin compared the iPhone 3G S to American car manufacturers. "Apple took a card out of the automobile manufacturer promo catalog between major model revisions," Livingston argued. "Say it's new for 2009 by providing a minor feature upgrade! Heck even put a new letter on the end of the name."
MacBook Pro upgrades
It turns out some people broke the most sacred of Apple rules: never buy an expensive Apple toy when you're within spitting distance of an Apple event. Despite this wise and savvy rule, some Apple fans bet the house against a new MacBook lineup showing up at WWDC.
Here on PC World, peepsy09 said, "I bought one of the aluminum MacBooks last monday, if they had given people a little heads up i would have a 13″ MacBook Pro right now. Apple sure knows how to piss off their customers." A commenter named Surely over on the MacRumors forum replied to a similar comment with a parental shaming, "I'd say you enjoy your awesome MacBook Pro. It doesn't suck you know." But Surely softened the blow by adding, "Or call Apple and see if you can trade it in."
The Developers
The Unofficial Apple Weblog interviewed developers after the conference to see what they thought of Apple's announcement. It turns out not all Apple developers are happy.
Several developers complained the iTunes App Store makes it impossible for users to find their apps, and were disappointed not to see some search refinements for the app store. One developer even offered up a conspiracy theory about iPhone app marketing, suggesting that unless you're one of Apple's favorite developers, you should just give up.
But commenters at TUAW were having none of it. Doc Rock said, "I hate hearing developers bitch about the app store. Not long ago . . . developers had to gain customers by hard work and actually marketing their apps . . . get schooled before you whine about the hand(s) that are feeding you."
The Future
As always, Apple didn't meet some WWDC expectations like a rumored FM transmitter and videoconferencing on the iPhone, or an appearance by Apple CEO Steve Jobs. But that hasn't dulled the enthusiasm for some Apple fans. I think applecultvictim sums it up the best saying, "A most excellent keynote, real exciting stuff, apple has spoilt us and preped [sic] us really well for Steves [sic] return with mactablet!!!!"