TomTom's turn-by-turn direction iPhone application, which was unveiled at Apple's Worldwide Developers Conference yesterday, has been met with much enthusiasm. The company's stock price increased by 17 percent after TomTom co-founder and CTO Peter-Frans Pauwels finished his WWDC presentation, according to The Wall Street Journal.
The new application delivers TomTom's turn-by-turn directions straight to the iPhone. It features everything you'd expect from TomTom including voice- and map-guided directions and your best route options based on the time of day. TomTom also announced a special car kit for the iPhone that works as a charging dock, enhances the iPhone's GPS signal and allows for hands-free calling.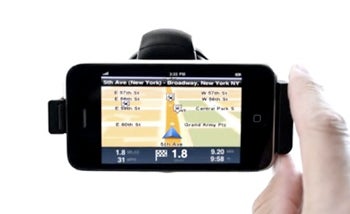 TomTom says the iPhone app will be released later this summer, with no word on pricing for the app or car kit. There is speculation TomTom could match the iPhone app's price to TomTom's basic GPS devices. That would put the app's price around $50, but it's all speculation at this point.
So far, TomTom is the only major company to offer turn-by-turn directions on the iPhone, something that been an oft-wished-for feature for some time. But now that it's here, what are the implications for hardware manufacturers? As MacWorld's Christopher Breen points out, the iPhone app could be a significant problem for hardware makers. The more functionality the iPhone and other smartphones get, the more obsolete one-function devices become. Why bother picking up a pocket camera with video function, a GPS device, a portable video game machine, or an MP3 player when you can get it all in one sleek little box?
As we move closer to the day when one device will take care of all your entertainment and computing needs, one-hit wonder makers will need to reconsider their business model. TomTom is doing that by embracing the iPhone, as is Amazon with its Kindle application. Another GPS maker, Garmin, is working with Asus to develop an Android smartphone. Game studios are starting to incorporate iPhone games into their long-term strategies, and all manner of media publishers from the The Wall Street Journal to People magazine are putting out their own branded apps.
For customers, the idea of having one device that can take care of all your technological needs is a staggeringly attractive prospect. Customer choice may suffer a little in terms of devices, but the options for functionality within the device look set to expand. By all accounts it's a promising future for multifunction devices, but with every new iPhone and Palm Pre that comes along, it becomes clearer that the days of the one-function gadget are coming to a close.