Google yesterday launched the public version of Quick Search Box, an integrated desktop search tool for Mac users. Earlier this year, the search giant had opened up a preview version of QSB to developers, but warned the program was a work in progress. Now, however, QSB is ready for prime time — according to Google, anyway.
QSB vs. Google Desktop
Unlike Google Desktop, QSB uses your Mac's Spotlight index instead of Google's own search capabilities to call up files and programs. This makes for a lighter search program, but one that doesn't have to index your entire computer before you can use it. Google says QSB includes a wide variety of search results including applications, files, music, Web search, navigational suggestions, browser history, and contacts. QSB will also let you carry out actions based on your search results, such as e-mailing files, sending contacts an instant message, and others. Over time, QSB will learn from your search habits and organize your search results based on your selections, according to Google. QSB is also an open platform, so third-party developers can create plug-ins to take advanatge of the search box functionality. A Twitter plug-in, for example, lets you send tweets right from QSB. However, QSB is not a Twitter client, so you will not be able to follow other people's tweets. So how well does QSB do its job? Let's take a look. (Click on the thumbnail images for a clearer look at the full screen.)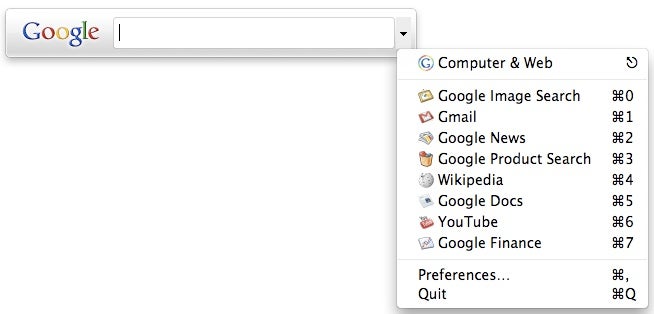 Calling it up Once QSB is installed, Google says you can launch QSB by double tapping the "Command" key or by pressing "control + spacebar." In my tests, I couldn't do this and had to search for QSB using Spotlight and launch it from there. Once QSB was launched, however, the keyboard shortcuts worked just fine to switch to QSB from another program. Once QSB is open, you are presented with a floating Google search box that can be moved anywhere on your desktop. Clicking on the down arrow on the far-right side shows you the variety of specific searches you can do, including Gmail, Wikipedia, YouTube, and other Google search categories.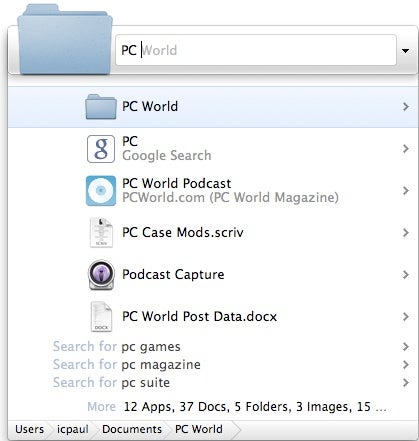 Files Since QSB is geared toward integrating your desktop and Web searches, I tested this by searching for "PC World." As you can see from the photo, QSB called up the folder where I keep my PC World posts as well as a variety of related results including a Web search, PC World Podcast MP3s, and so on.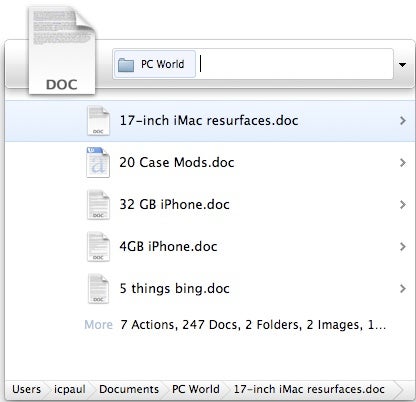 When I select the PC World folder and press the tab or right arrow button, QSB shows me the folder's contents, displaying the first five documents in the folder with the option to look through for more. After selecting a file, and again hitting tab or the right arrow, I was able to see the variety of actions I could do with that file. Options include looking up basic file information, as well as deleting and opening the file.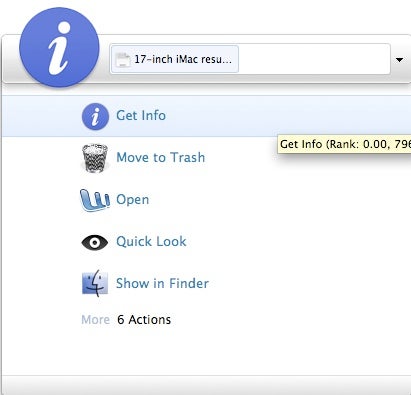 While QSB was able to handle my general PC World query, I was surprised to discover the app couldn't find specific documents in the folder even if I typed in the exact filename. QSB also failed to give me the option to e-mail the file — a common reason you search for files in the first place.
Music Searching for music in QSB is an easy way to quickly get to the music you want to hear without switching over to iTunes. I searched for "The Wrestler" by Bruce Springstein, a recent addition to my iTunes library. QSB was able to quickly find the song file, and offered a variety of search options as before. Once I tabbed over to the next page, I was presented with a list of terms related to the song file, including the artist's name and a variety of playlists the song is associated with.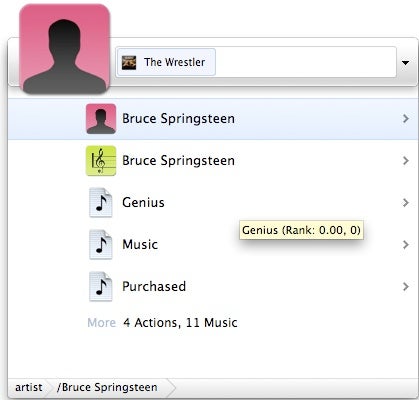 Clicking over to use the file, I found the only action I was able to take was to play the song in iTunes. Although it took me a search and three clicks to get the song playing, music files are something QSB handles very nicely. I liked the fact that QSB called up iTunes and began playing the song in the background. That way I could keep working without having to move away from my document to stare at an open iTunes window that I don't need to see in the first place.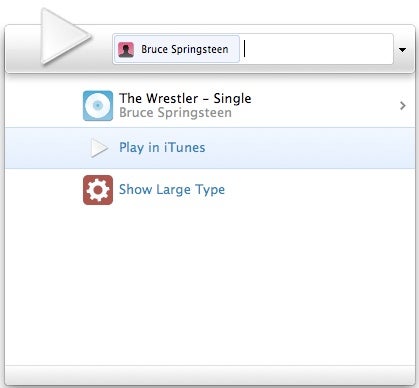 I also tested music search with files pulled off a CD with no copy protection, and the results were similar; however, unlike with The Wrestler I was able to add unprotected songs to iTunes DJ. The only downside was that, once again, there was no option to e-mail the file.
Contacts Of the three searches I did, contacts was by far the weakest. In my tests, QSB only searched within my Apple Address Book, even though I have Microsoft Entourage installed on my computer. Spotlight, on the other hand, was able to find anything within my Entourage program, including e-mail messages, appointments, and contacts. I also authorized QSB to search my Gmail, and it did not return any results from my online account. It may be that you need to be using Gmail's offline function to have QSB search your Gmail account, but the program didn't provide any instructions about this. If you do use Apple's default contact manager, then you will have several actions you can take from QSB. Call up a contact file and you can open it in Address Book, e-mail the contact card, or even open up your IM client, iChat, or Skype for a quick chat.
Final Thoughts
While QSB looks promising, I found that it was a little hit or miss when it came to search. In my tests, Google's application could not provide as good a search as Spotlight, even though Google says QSB is using the Spotlight index. My Firefox browsing history, for example, was very hit or miss on QSB, but Spotlight nailed it every time.
QSB was also a little restrictive on the actions you could take. One thing I often check before I e-mail something is its file size so I don't overload someone's e-mail storage. The problem with QSB was that it allowed me to access basic file information for documents, but not sound or video files. It would also be nice if QSB delivered Web search and Wikipedia results inside QSB instead of opening the default Web browser. QSB has some handy features, but Google needs to expand the program's functionality and improve its search capability before I'd recommend it as a solid solution. If you're looking for a comparable application to augment Spotlight, other programs — such as Quicksilver — do a far better job. Oddly enough, Quicksilver is the brainchild of Nicholas Jitkoff, who was listed as one of the lead developers on the preview version of QSB.