I'm in the market for a go-cart. I think it'd be fun to zip the kids around the block all summer. (Come on, honey! Think of the kids!) But I don't want to spend a small fortune on a new cart, so naturally I've been trolling Craigslist in search of local deals on used ones.
Unfortunately, the Web's garage sale offers no notification system, no way of letting me know when new go-cart offers have been posted. Enter CL Genie, a free service that sends you an e-mail whenever a new Craigslist listing matches your search term(s).
Start by choosing your location, then pick a Craigslist category. (CL Genie lets you search across any category, not just for-sale stuff.) Next, enter your search parameters (e.g. "go cart"). You can also specify a minimum and/or maximum price, which is great for weeding out stuff that's too pricey (or not pricey enough — I don't want a $50 go-cart that's made of balsa wood).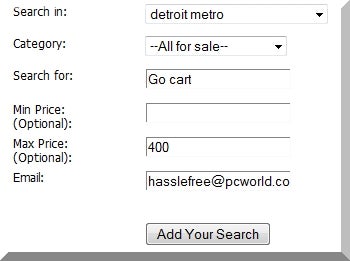 Finally, enter your e-mail address. When that's done, CL Genie will send you a confirmation e-mail with a link to click to enable your search. (That same link also cancels your search, so hang onto the e-mail.)
The service posts only matching deals that appear from that point forward, so you won't get deluged with older stuff. What's more, CL Genie searches automatically end after 30 days. If you haven't found what you're after by then, you can always create a new search.
Love it, love it, love it. CL Genie just earned a permanent bookmark in my browser. If you've ever searched Craigslist for anything and wished for a way to get automated updates, your genie has come in.