I've been offline and epoxied to my desk chair the last 48 hours, and I blame it entirely on Prototype, Radical Entertainment's Xbox 360, PlayStation 3, and Windows sandbox shapeshifting action game, which I finally finished about an hour ago. You know what they say about dropping whatever you're doing and dashing out to buy something? Well don't, because that's just silly–especially if you're a timber cutter or a brain surgeon. But if you heart great big open-world games that let you roam off the everyday-physics leash, it's definitely worth picking up as soon as you can.
Confession: I'm slightly stunned. Radical Entertainment's not known for making especially bad games, but then they're not really known for much in general. Remember The Simpsons Road Rage (2001)? Crash Tag Team Racing (2005)? Scarface: The World is Yours (2006)? I do…barely.
Prototype is clearly the best thing they've ever done, right up their quality-wise with Sucker Punch's inFAMOUS (PCW Score: 90%), and every bit as compulsively playable. Like the latter, it's an anti-superhero game (i.e. brooding dude conflicted about his astonishing abilities) that sees you bounding around a quarantined city, trying to figure out who you are and why you're able to do all this incredible stuff.
Like: Turn your arm into a mammoth hinged blade and skin yourself in Sauron's own ebony-plated body armor. Or swallow bodies and assume alternate visages like someone casually swapping designer suits. Or leap off a skyscraper, glide like a skydiver, fling a tentacular barbed cord from your body like a ropy black tongue, tag a nearby helicopter, then reel yourself up to pry open the door, consume the pilots inside, and man the controls. If you're fatally hit while flying, just leap from its plummeting wreckage, glide to within striking distance of the bird that got off the lucky shot, set your tentacle flailing, and repeat.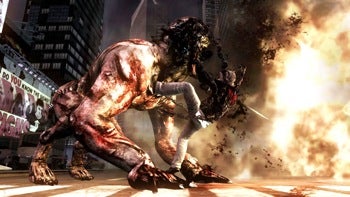 My chief objection, since I played through the Windows version, is that Prototype is another Games For Windows branded title that's not Games For Windows Live-enabled. You know the drill: No achievements, no Gamerscore, no option to sign in and see if your friends are playing or how far along they are.
Hey Microsoft, what gives?
Back with the full review shortly.
For more gaming news and opinion, point your tweet-readers at twitter.com/game_on.