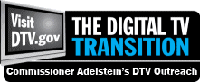 For marketing consultant Richard Kelleher, a transition from analog to digital television in the U.S. hasn't gone smoothly.
Kelleher, who lives in the Phoenix area, is one of millions of U.S. residents who have purchased converter boxes so that their television sets can receive digital broadcasts. U.S. televisions will stop broadcasting analog signals on Friday. (See PC World's FAQ on the transition)
Kelleher received about 10 analog stations, and after hooking up the converter box, he receives only three stations, two of them Spanish-language stations, he said. "With the conversion, the government must be enforcing an agenda of teaching me Spanish," said Kelleher, who calls himself a marketing sociologist. "I live in northeast Phoenix, where there is a mountain range between my home and the [TV] station towers."
Most people receiving over-the-air broadcasts will need to purchase converter boxes to continue to receive TV signals after analog signals go dark Friday. The U.S. government continues to offer coupons to help with the cost of the US$50 to $80 converter boxes. Television sets hooked up to cable or satellite service will not need converter boxes.
With his TV set connected to the converter box, Kelleher gets a "station unavailable" message on several channels. He has an indoor antenna, and has no plans to crawl up on his townhouse roof to install an outdoor antenna, he said. He watches about two hours of TV a week and doesn't want to spend the money to buy cable service.
"Thank God for Internet," he said. "I'm paying the $40 for wireless broadband instead of cable. Most shows are on the Internet the next day."
Kelleher is not alone, according to DTV Across America, a group focused on providing information about the DTV transition. An estimated 2 million to 4 million U.S. households will lose TV signals Friday because they have not purchased a converter box, but others will lose stations because they lack an adequate outdoor antenna, the group said.
On Wednesday, Nielsen reported that 2.8 million American households, or 2.5 percent of the television market, are completely unready for the transition, the U.S. Federal Communications Commission said. That's a big improvement over February, when the DTV transition was originally scheduled to happen, the agency said.
The FCC hasn't done an adequate job of describing the need for outdoor antennas, said Nicholas Didow, a spokesman for DTV Across America. The digital signals don't go through obstacles as well as the analog signals did, he said.
"There's not ready and then there's, 'I thought I was ready because I did what the FCC told me to do, but I still don't get much reception,'" Didow said. "In addition to these households [without converters] will be several million others who will be particularly surprised and frustrated, because they have done what the FCC told them to do — bought a DTV converter box, maybe using the government coupons — and they will find that this is inadequate as they also need to upgrade their antenna, or switch to cable or satellite."
The FCC has released a list of 74 TV stations that will lose 2 percent or more of their viewers, although the list includes no Phoenix stations.
In most cases, TV viewers can make adjustments to their equipment to receive missing channels, the FCC said.
"Some stations will change their coverage area in the digital transition," the FCC said in a statement. If a viewer is missing a few channels, they should conduct a channel scan, adjust their antenna and check the signal strength meter on their converter box, the FCC said. If channels are still missing, they may be able to add them individually by entering the number on the converter box remote.
The DTV transition, originally set by Congress for Feb. 17, was delayed after President Barack Obama and Democrats in Congress raised concerns that many U.S. residents weren't ready. Much of the freed-up spectrum, in the 700MHz band, was sold to wireless broadband providers in an FCC auction that ended in early 2008. Part of the spectrum has also been reserved for police and fire departments to use.
Congress pushed for U.S. TV stations to abandon the spectrum because the 700MHz band is some of the best spectrum for wireless broadband services. Lawmakers were concerned that emergency response agencies couldn't communicate with each other during the Sept. 11, 2001, terrorist attacks on the U.S., largely because they were using communication devices on different areas of the spectrum.
Kelleher doesn't understand why much of the spectrum went to mobile phone carriers. "There was no reason DTV and regular TV couldn't coexist on the current frequency," he said. "See how powerful the cell phone lobby is — they have the power to have the FCC move everything for them."
DTV can offer several benefits, according to the FCC. Many viewers will get better pictures on DTV, and TV stations will be able broadcast multiple channels on their DTV, the agency said.
"One of the great benefits of digital technology is that stations can now provide many more free over-the-air channels than the single channel they provide today," Acting FCC Chairman Michael Copps said in a statement. "These new channels can provide the kind of local and niche content that is often missing from the public airwaves. Imagine your favorite station offering, in addition to the main programming, a channel devoted to children's educational programming, one covering local news and government, and one showcasing local music and cultural events."
Some TV viewers have heard the information about DTV and still decided not to make the switch.
"I have ordered the coupons, but have not redeemed them," said Brigitte Brown, CEO of Brown Olive Natural Skin Care. "I am undecided [whether] to purchase an HDTV or get cable and that will settle everything when I make a decision. But I will see how long I can go without TV in my bedroom. It comes in handy when I cannot sleep."