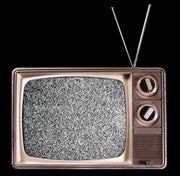 Today about 1700 television stations across the United States will make the switch from analog to digital signals. The switch follows a year of heavy advertising, exhaustive reporting, local programs to help elderly residents deal with the switch, and a converter box coupon shortage that delayed the whole enterprise by another four months.
While the large majority of U.S. households are ready for the switch, as many as 1.75 million to 2.2 million people could be watching a blanket of snow in the wee hours of Saturday morning. The Federal Communications Commission has 4000 operators on standby ready to answer questions from confused residents, and has set up digital TV demonstration centers in major urban centers, as well as a Digital TV conversion Website.
So, after years of hype, the future of television has arrived. But is this what we signed up for? I've scoured the historical record to see what tech analysts were saying as early as ten years ago about the future of digital television. Read on to see what tech pundits got right and what they got wrong, during the time when AOL was king, Apple's future was still in doubt and the cost of an HDTV cost more per square foot than an office in downtown Washington, DC.
What They Got Wrong
Continuous Adverti sing and Extra Screen Width: On January 29, 1999 the Washington Post ran an interview with Rob Pegoraro, WAPO personal technology edi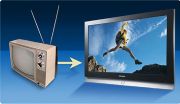 tor. Pegoraro predicted that cable companies might reduce the width of your TV viewing experience, and run continuous ads in the free space similar to what you see on a web page. Pegoraro also suggested that cable companies would allow you to buy extra screen width for sporting events and other special programming.
Cable Domination: On November 1, 1998, Business Week discussed the future of digital television and HDTV. The magazine posited that digital TV would turn the tech world "upside down." They said cable companies looked well positioned to weather the digital TV storm, and the big losers might be Dell, Compaq and Intel. While cable still dominates the living room, the development of services like Hulu and Boxee make it clear that cable's lock on the American living room is about to get rocked in a very big way.
Web Browsing on TV: Business week also suggested the digital TV revolution could bring about the end of the PC. In the article, Business Week asked, "who needs a Pentium PC if simpler, cheaper appliances let you browse the Web or videoconference with friends on a giant high-resolution screen?"
While bringing Internet to the TV has been tried many times, it has never taken off. People have stuck with their trusty computers, and that is unlikely to change any time soon.
Enhanced Interactivity: Wired ran an article in January 1999 discussing how the Corporation for Public Broadcasting was embracing digital television. At the time, CPB's President and CEO Robert T. Coonrod foresaw a time when viewers would see enhanced interactivity. Coonrod pointed to the classical music program "Great Performances," imagining a time when people would watch the broadcast of the symphony from different angles, follow the written score on TV, or even mute a specific instrument and play along with the symphony.
Coonrod did correctly predict the idea of viewing a program from multiple angles, but that is happening on your computer, not your television. Last season, NBC and the NFL allowed you to watch the telecast of Sunday Night Football online and view the game from a variety of different camera views.
Shopping from your TV: In August 1999, The Guardian talked about grabbing "the TV remote, your credit card, and a nice cup of tea" to shop for computers, books, or whatever tickled your fancy right from your living room chair, all thanks to digital television. You can do that today, just not on your TV — unless your computer uses your television as a monitor.
What They Got Right
More HBO: Discussing the future of television and the possibility of wider programming possibilities, Pegoraro said he didn't think the changes were likely to create a slew of offbeat and niche program. Instead, Pegoraro said, we just might get ten more flavors of HBO and MTV. Score one for Pegoraro. There are currently seven HBO channels, including HBO, HBO 2, HBO Signature, HBO Family, HBO Comedy, HBO Zone, and HBO Latino.
Set-top boxes: Around May 1999, CNET argued that set-top boxes of the future would let us browse the Web, play video games, and access digital programming guides. Since then the set-top box has become more than just a way to broadcast television, but to play video games, stream and download movies and yes, even view an interactive programming guide. Today, we have Netflix's Roku, TIVO and other DVRs, the Xbox 360, Apple TV, the PlayStation 3 and more, all trying to be the central hub for your entertainment needs.
TV Guide competes with Microsoft: Another one from the CNET archives sees Jim Davis wondering if TV Guide could be threatened by the emergence of digital TV. While TV Guide didn't really go head-to-head with Microsoft's Web TV, the emergence of digital TV program guides definitely sidelined TV Guide's mojo.
Back to the Future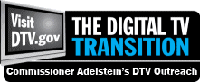 That was the future then, and while some of it looks like our future now, it's interesting to note that a lot of the future of digital TV made its way onto the computer instead of your television. And as for the post-2009 future of digital TV? Well, considering how much the pundits of 1999 got wrong, I wouldn't dare to forward my own theories. However, if I were you I'd invest heavily in smell-o-vision. I swear it's the next big thing.