Ladies and gentlemen, get on your marks: The race to grab your very own Facebook URL is about to begin. Facebook will allow users to register custom usernames for the first time starting at 12:01 a.m. EDT Saturday. The usernames are bound to go fast, and if you aren't prepared, you may end up empty-handed — or, worse yet, with a number-happy AOL-style name (think "JSmithLOLz313451").
Here, then, are 10 things you need to know before the floodgates open.
1. Facebook's usernames will be given out on a first-come, first-served basis.
If you're dying to get "johnhenderson," you'd better not go to bed early. Facebook will start handing out usernames at precisely 12:01 a.m. EDT. Odds are, most common names will be gone by 12:02.

2. Once you pick a name, it's yours for life.
Each Facebook account gets only one username, and you can never change it. You can't transfer it to someone else, either. Even if you delete your Facebook account, Facebook says the name won't go back into the pool.
3. You don't necessarily have to use your real name.
While Facebook is encouraging the use of real names, you aren't limited in that regard. The system will suggest a few available options based on your first and/or last name, but it'll also provide a blank field in which you can type something completely unrelated.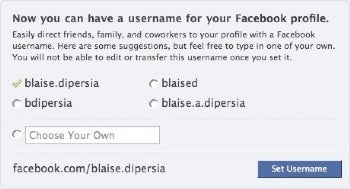 4. You won't be able to get a 'generic word' as your username.
Hoping to snag facebook.com/blogger? Don't count on it. Facebook says "generic words" won't be available for usernames. A full list of included terms hasn't been released, but "pizza" and "flowers" were given as examples of what won't fly.
5. You'll have to use at least five characters.
The Facebook usernames will have to be at least five characters in length and can only contain letters, numbers, and a period. Trying names with special characters — you know, symbols like $#@% — will only waste your time.
6. If you created your Facebook account after 3 p.m. on June 9, you won't be able to get a username yet.
Facebook is only letting users who had accounts prior to 3 p.m. on June 9 register for usernames this week. The social network says it's a precaution to help prevent people from creating accounts just for "name squatting" purposes. If you registered your Facebook account after that time, you'll have to wait till June 28 at 12:01 a.m. to get your new name.
7. The restrictions are even greater for Facebook Pages (public profiles).
Owners of Facebook Pages — public profiles for companies, organizations, or public figures — must have been registered before May 31 in order to be eligible for a custom URL. Additionally, the Facebook Page must have had at least 1,000 fans as of May 31 in order to get a username now.
8. Facebook does plan to protect trademarks.
Facebook says it'll work to protect intellectual property and trademark rights. You can report rights violations here.
9. Your current privacy settings will apply to your new URL.
Your new Facebook username will immediately become your new URL (e.g. facebook.com/username). Depending on your privacy settings, though, people may not be able to see much there. Whatever settings you currently have on your account will apply, so if your profile is set to be private, it'll remain private — even on the new address.

10. Your Facebook username may be used for more things in the future.
As of now, the Facebook usernames will be used for custom URLs. In the future, however, the company has said it plans to unveil other uses for the names. Specifics have yet to be revealed, but know that whatever name you pick will likely pop up in even more places down the road.
Connect with JR Raphael on Twitter (@jr_raphael) or via his Web site, jrstart.com.