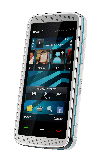 Nokia has announced the Nokia 5530 XpressMusic, a cheaper version of its successful touch phone, the 5800 XpressMusic, it said on Monday.
The Nokia 5530 XpressMusic, which also uses a touch interface, will cost €199 (US$275) before taxes and subsidies. When the 5800 XpressMusic was announced in October last year it was listed at €279 before taxes and subsidies.
The phone is yet another example of how the line between smartphones and cheaper mid-tier phones is being blurred, according to Ben Wood, analyst at CCS Insight.
"It's definitely for people who can't afford an iPhone, and that is not a negative thing by the way. There are people who want that experience, but can't justify the expense of an iPhone," said Wood.
The 5530 XpressMusic has a 2.9-inch widescreen display and comes with a 4GB memory card for storage. Users can surf the web using Edge or Wi-Fi data connections. Nokia has signed a deal with Wi-Fi aggregator Boingo Wireless, and will offer free Internet access for three months via Boingo hotspots, but only in "selected markets," Nokia said without elaborating.
The lack of 3G support is all about keeping costs down, according to Wood.
The user interface includes what Nokia calls a "people carousel." It provides access to up to 20 contacts — which are represented using thumbnail images — and their communications history including emails, phone calls, photos or other social media updates.
Nokia sold 2.6 million of its 5800 XpressMusic during the first quarter, making the smartphone one of the highlights of an otherwise gloomy quarter, so it comes as no surprise that the company wants to build on that as it tries to turn around its fortunes.
The Nokia 5530 XpressMusic will start shipping during the third quarter.

Nokia has also announced an upgraded version of the E71, which is Nokia says is its best selling QWERTY device to date. The new E72 has a 5-megapixel camera, a standard 3.5 mm audio jack and an improved user interface, Nokia said.
The E72 is an indication that Nokia has listened to feedback on, for example, the E71's camera and its lack of a standard 3.5 mm audio jack, according to Wood.
Instant messaging also plays an important role on the new device. Users will be able to set up instant messaging accounts provided by Nokia Messaging direct from the home screen, and connect to, for example, Yahoo! Messenger and Google Talk, Nokia said.
The Nokia E72 is expected to begin shipping late in the third quarter and cost about €350 before taxes and subsidies.