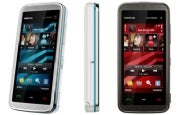 Nokia introduced today the 5530 XpressMusic, a follow-up on the company's 5800 device, with a sleeker look but with some scaled-down specs. Aimed at the youth market, the 5530 brings an improved touch interface cased in a steel frame finish.
Building up on the success of the 5800 model (with over one million devices sold), the new Nokia 5530 is somehow a step down from its older sibling. The 5530 comes with only 4GB of bundled memory (swappable with a larger mircoSD card) and a 2.9-inch widescreen display (640 by 360 pixels).
Also downgraded from the 5800 is the radio antenna in the new Nokia 5530. The device only runs on GSM/EDGE, which means that it is not a 3G phone. But besides the smaller storage capacity, smaller screen, scaled-down radio and no GPS, the 5530 comes for a smaller price as well: $276 for a simfree (unlocked) device.
Scheduled to become available in the third quarter of this year, the Nokia 5530 will feature Wi-Fi connectivity, coming with a thee-month Boingo subscription, which gives customers free Internet access from hundreds of hotspots around the world. The 5530 also features a 3.15-megapixel camera with an LED flash.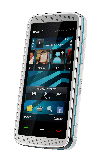 However, the Nokia 5530 brings the most improvements in the user interface department. A new 'people carousel' feature is available on the home screen, which displays thumbnails of up to 20 selected contacts for quick access. There is also a pop-up "media bar" for speedy access to music, photos, and videos stored on the device.
Coming in five different colors, the Nokia 5530 is placed at the bottom of Nokia's touchscreen smartphone lineup, with the better equipped 5800 model above it and the upcoming N97 as the flagship device.
Follow Daniel on Twitter @danielionescu