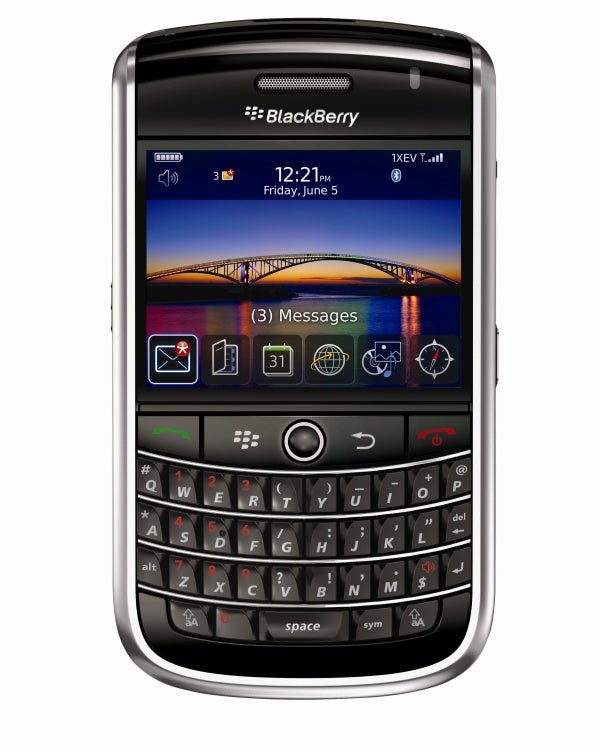 Rumors have been swirling around the blogosphere for months, but now it's official: The latest RIM BlackBerry device, the Tour 9630, is headed to Verizon and Sprint as well as Bell and TELUS in Canada this summer. And from what I've seen from pictures and specs, this might be the best BlackBerry to date.
Appearance-wise, the Tour looks somewhere between the Bold (the other 9000-series phone on AT&T) and the Curve 8900 (on AT&T and T-Mobile). It actually has the same dimensions as the BlackBerry Storm, though, measuring 4.4 by 2.4 by 0.5 inches. It weighs an ounce less than the Storm at 4.6 ounces, but it is slightly heavier than the feather-light 8900. The Tour's display has the same 480 by 360 pixel resolution as the Curve 8900, but its size has not been confirmed. And like the 8900 and the Storm, the 9630 sports a 3.2-megapixel camera with geotagging.
The BlackBerry Tour 9630 sounds like the perfect BlackBerry device, but there's one catch: No Wi-Fi. It is a familiar and sad story with RIM CDMA devices and honestly, I don't understand the omission this time around. The BlackBerry Storm 2, which will also debut on Verizon in coming months, is rumored to have Wi-Fi, so I don't get why they didn't include it on the Tour. Nevertheless, the Tour 9630 looks like a solid addition to the BlackBerry family and I can't wait to get my hands on it. Pricing and a launch date have yet to be announced.