CopyTrans ($20) helps you sidestep one of iTunes's most galling built-in limitations. This useful app allows you to backup an entire iPod or iPhone's library, then either place it in a specific folder of your choice, or import the tracks and playlists directly into iTunes. This is handy when you have a hard drive crash and all your tracks are stuck on your iPod with no way to get them off. Or, you'd just like to transfer your music to your PC without any hassle.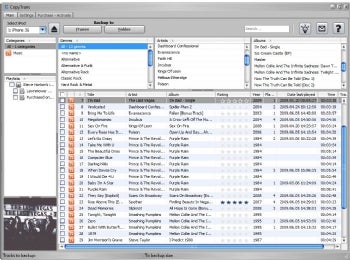 CopyTrans does have a few quirks. When you launch it, it will not work unless iTunes is closed. Then, when you backup to iTunes, it first copies all the songs from your iPod. Then, you have to unplug your iPod to continue. Then, it launches iTunes, imports your songs, then closes iTunes. Then, CopyTrans optionally closes and relaunches iTunes again. That seems like a lot of unnecessary app opening and closing, and could definitely be streamlined a bit.
Also, CopyTrans doesn't check to see if there are any duplicates of songs you're importing that are already in your iTunes library. It just blithely creates duplicates with "1-" in front of all of them. Since iTunes has no real way of getting rid of duplicate tracks, this could create a big mess in your library. You'll have to use a program such as Audio Comparer ($30) or iTunes Library Updater (free) to fix this.
Despite the quirks, CopyTrans is a great solution to get around an inherent iTunes limitation. It works the same way as rival product iPodRobot and is even the same price–$20. However, those who want to spend a little more time kicking the tires will notice that the demo of CopyTrans allows 100 files per session, which is a lot better than 10 files per session with iPodRobot.
As with other programs like this, though you will be able to copy files from any iPod attached to the machine, you will not be able to play copy protected files unless you purchased them.
Note: The demo version of CopyTrans allows 100 backed-up files per session, and then must be restarted. The full version costs $20.