More often than not, I come back from an IT gig with a need to synchronize documents between one of my laptops to my main desktop. I've yet to find a better program for the task than DirSync Pro. Generally, Pro in a product name indicates monetary compensation to the author is required. However, DirSync Pro is simply a free/donationware program with a ton of pro-style options.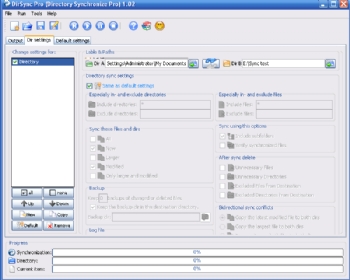 Said ton of options includes copying only modified files, copying only files that are larger than a size you specify, skipping Linux symbolic links (as a Java app, DirSync Pro is cross-platform), keeping X number of copies of a file, and deleting files after a sync. You may also apply different settings to each sync job you define. There's no scheduling–say, for syncing files off of a shared, frequently-updated network folder–but you can always use the Windows Task Scheduler.
DirSync Pro's interface is a logically laid-out, multi-tab affair. It's quite easy to learn. The only problem I experienced was of options being obscured when I downsized the window–though you should never need to do this unless you're running at a vertical resolution less 768 than pixels (e.g., 800 by 600). The output tab provides a complete readout of all the operations that were performed, right down to each file that was copied.
DirSync Pro worked fine in all my tests, and was fairly speedy in spite of displaying such a detailed log. I highly recommend it to anyone whose sync needs extend beyond Windows Briefcase.
Note: DirSync Pro comes zipped. There's no installation as such; you run the program from the directory to whch you unzip it. This program is donationware. It is free to try, but the authors accept and encourage donations towards further development. This link takes you to the Sourceforge project page, where you can download the latest version of the software.