What upcoming video game do a majority of you most want to buy coming off this year's Electronic Entertainment Expo? Microsoft's Halo ODST, blogs Nielsen, followed closely by Sony's God of War III. Nielsen originally listed New Super Mario Bros Wii as E3's biggest "online buzz" generator (a fraction more than Final Fantasy XIV) but their followup tracking survey put Halo ODST top of the heap. It seems Mario didn't even chart.
"After press conferences by Microsoft, Nintendo and Sony, no clear winner emerges in online buzz, with Microsoft earning the most brand discussion, but buzz for Wii, Xbox 360 and PS3 is nearly equal," writes Nielsen. Even with two ex-Beatles and their former mates' spouses taking the stage to promote The Beatles: Rock Band, Microsoft's motion control dark horse Project Natal beat all in overall E3 buzz, says Nielsen.
What's the difference between "buzz" and "sentiment"? Buzz is what everyone's talking about, but sentiment, in this case, suggests what they're actually planning to spend money on.
And most importantly, per Nielsen:
…there were not massive spikes in consumer interest in purchasing these titles from pre- to post-E3. Most moved up or down 1-2 percent at most, which is well within the margin of error. In other words, games that already tugged at gamers' hearts held on.
The chart.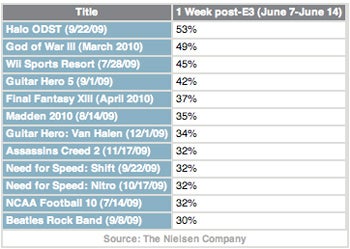 So gamers already know more or less what they want, and while E3 added a few distant hypotheticals to the horizon line, the show doesn't appear to have changed hearts and minds.
What I'd like to see: A scientific pre- and post-E3 survey that measures the show's impact on near-term console, handheld, or PC hardware (upgrades or new systems) purchases. Does E3 sway fence-riders from one system to another? Convince owners of one console or handheld to buy another? Does talk about high-end PC games like Crysis 2 lead to an increase in purchases of new motherboards, CPUs, system memory, and graphics cards?
Poll time.
For more gaming news and opinion, point your tweet-readers at twitter.com/game_on.