It has been a crazy night trying to download the latest iPhone update, with many people reporting that they are unable to access Apple's servers due to unusually high traffic. But Apple's servers are now up to scratch and everybody should have the 3.0 software update installed on their iPhone and iPod Touch.
If you haven't had a proper run-down through all the new features in the iPhone 3.0 software update, our colleagues from Macworld have a comprehensive hands-on review. But now that many had the chance to play around with the new iPhone OS, plenty of undocumented features and nifty updates are starting to show up.
I have complied for you this list of the top 10 hidden gems within the iPhone 3.0 update, which are some of the most important undocumented features so far. If you find any more, make sure you leave them in the comments, so that everyone gets to try them.
Adjustable Song Scrolling Speed
Previously, while listening to a song, you had a simple dot on the song bar to rewind or fast forward. But now in the 3.0 update, you can scroll through songs at various speeds. Put your finger on the scrolling point and it will start glowing. Now, if you drag your finger left or right, you will scroll through the song at "high speed," and if you do this movement while dragging your finger down the screen, the speed decreases to "half speed," "quarter speed," or "fine scrubbing."
Special Characters In Messaging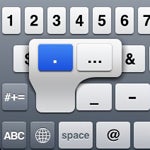 The 3.0 keyboard has a few extra special characters when holding certain signs down. For example, when you hold down the "." you also get "…" The dash "-" also displays an em-dash "-" and quotations and apostrophes display "<<" and ">>" and can also be curved. Another quick tip is to hold and press on the numeric button while in letters mode and slide your finger to the desired punctuation sign. Then, the letter keyboard will come back automatically.
More Ways to Access Spotlight
Spotlight, the search function that looks through your e-mail, contacts, appointments, notes, and more can be accessed in multiple ways. While on the first Home Screen page, if you swipe towards the right side of the screen, Spotlight will be activated. (there is a little icon above the quick launch bar, just before the dots representing the multiple screens). You can also access Spotlight while pressing the home button when on the first Home Screen page. Alternatively, Mail and Contacts have now search bars at the top of the list.
Quote Fragment Within Reply in Mail
Just like on its desktop counterpart, the Mail app in the iPhone 3.0 update can now reply with only a quote from the original e-mail. To achieve that, you tap and hold in an e-mail (just as with copy/paste) and select the portion of text you want to quote. Then just hit the reply button and the selected fragment will be appended at the end of the e-mail (under your signature), instead of the whole original message.
Remove Individual Texts from A Conversation
One annoyance in the 2.X iPhone software was that you had to remove an entire conversation of text messages. But in the 3.0 update, there is an Edit button (it's in the top-right corner when inside a conversation), which allows you to select and remove individual text messages from a certain thread, similar to the way it is done in the Mail app. Extra tip: this way you can also select a text you want to forward (instead of copy/paste).
Open Link In New Tab In Safari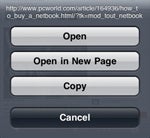 Safari now uses tabbed browsing, like big boys do on the desktops, and this new hidden feature is great. If you tap and hold on a hyperlink (hyperlinked text) on a Web site within Safari, a dialog will prompt you to open this link, copy it (link locations) or open it in a new page (which opens a new tab in Safari).
Force Quit Unresponsive Apps
Because of multiple functionalities for the Home button, this key will no longer force quit unresponsive apps like it did in 2.X software. To force quit an application in 3.0, you have to hold the sleep/wake button at the top until the red power off slider appears. Then you have to hold down the home button to quit the unresponsive application.
Shake Phone to Undo Typing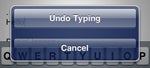 As simple as it sounds, when you are in the Mail, Messaging, Safari or Notes applications, after you typed a word/several words, just shake the phone and a pop-up will appear, asking you whether you want to undo what you have just entered.
Change App Store Account On The Fly
Until now, you were stuck to changing your iTunes account from your computer and then sync back to the iPhone. In the 3.0 software this can be done in two ways: either by going to Settings/Store and logging out and then back in with a different account, or straight within with the App Store application. At the bottom of each search page, your current account is displayed, so if you tap on it, you can sign in/out or even edit/view account information.
Unlimited Number of Apps Installed
In the 3.0 software update, you can now install an unlimited number of application (as long as the storage space allows you). The number of applications pages has increased from nine to 11 and any apps installed above the 176 that could fit on these pages will not be visible (no icons on pages). However, these invisible apps can be accessed via Spotlight (see above multiple ways to access Spotlight).
Is there anything missing from the 3.0 software update? Have a look at our iPhone 4.0 Wish List.
Follow Daniel on Twitter @danielionescu