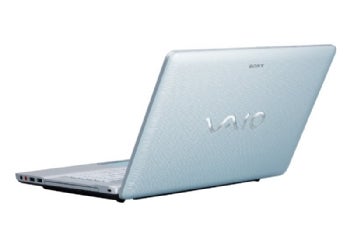 Why the heck is a new notebook debuting at some swanky event celebrating BD-Live? Sony's message: Blu-ray is everywhere–and they want to make sure you can get players for cheap (well, as cheap as BD can get these days). Case in point: The Sony VAIO VGN-NW180. This respectable-looking $880 laptop ships within the next two weeks sporting a BD-ROM drive. Upon hearing that, I had to push my way past the suits for a little quality one-on-one time with the machine.
So, bear in mind that these are just my initial thoughts on the notebook, and it's far from a scientific review. I was busy trying to keep the product managers from looking over my shoulder.
At First Glance
The first thing that'll grab your eye: The 15.5-inch (1366-by-768-pixel) panel. The glossy screen looks great and didn't give too much glare in the demo room–provided you have the LCD tilted at the correct angle. Eyeball it the wrong way, and the image will be a little washed out. That's nothing new. But the movies running on-screen looked crisp at 720p. Want to get the full 1080p picture? Plug in the HDMI cable, press the Display Off button, and you've got yourself a portable BD-Live-enabled player. At least, that's the Sony sales pitch.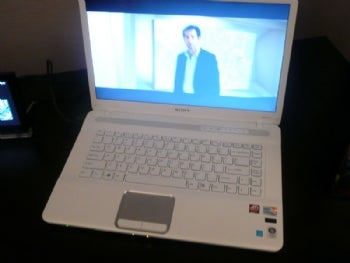 The other bits of entertainment-centric nods include a discrete GPU, the 512MB ATI Radeon HD 4570. That's more than enough firepower for running video and, it's safe to say, get your game on. (For a little perspective, you can play a game like Left 4 Dead on a significantly less-powerful computer like the DV2). I obviously can't score things yet, but between the GPU, the 2.0GHz Intel Core 2 Duo P7350 processor, and 4GB of DDR2 RAM, signs point to a decent all-around performer.
It's also a solidly built all-purpose machine measuring 14.6 by 1.2 by 9.8 inches and weighing 6 pounds. And as is the vogue, this laptop sprouts cut-out keys. They are large, solid, and have pretty good key response in my initial kicking of the tires. The only button that seems a little goofy is the SplashTop "Web" button–you know, in case you need to hit the Web in a hurry and avoid Windows booting. Unfortunately, that's all it does. How about a Windows-less MP3 playing mode? Or A Blu-ray player that boots quickly? It just seems odd considering how this machine's positioned as an all-around entertainer. Okay, enough with my keyboard-based rant. Now it's the touchpad's turn.
The feel of the slightly sunken touchpad worked fairly well with good-sized, solid buttons (sorry, but no multitouch drivers are on the way). I'm just not sure how I feel about the faux wood-grain feel of the notebook. It seems a little silly–if decent enough to the touch–but why stop there? I might as well have a faux wood paneling on my notebook like a 1970s station wagon. But it comes in three colors: brown, white, and silver.
The new VAIO hosts a reasonable port package on board. Beyond the aforementioned HDMI, there's also a FireWire/iLink/1394 output (whatever you want to call it), three USB ports, VGA-out, an ethernet jack, a microphone, a 1.3-megapixel camera, and 802.11b/g/n Wi-Fi. In addition, it has an ExpressCard slot, an SD card slot, and–surprise, surprise–a MemoryStick Pro slot.
In the past, Sony's been guilty of bloating machines with tons of useless software. Now the Sony reps confess that Sony has seen the light and reeled back on the preinstalled nonsense. Result? The 400GB, 5400-rpm hard drive that comes with this VAIO has 328GB of free space (the Windows installation plus a hidden backup drive image). Which looks fairly reasonable.
Overall, not too shabby from what I've seen so far. Sony promises to send a proper review unit, and as soon as that happens, we'll give you the full report from the PC World Test Center.