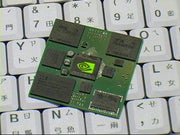 Microsoft's upcoming Zune HD media player is powered by Nvidia's Tegra computing platform, a source familiar with the device's specifications confirmed on Friday.
Microsoft hasn't disclosed detailed specifications for the Zune HD. In a press release issued last month, the company said it will have an HD Radio tuner, HD video out, a 480 by 272 pixel OLED touchscreen display, Wi-Fi, and a web browser.
The Zune HD will also be integrated with Xbox Live and will have access to the Xbox Live Video Marketplace, where users can download television shows and movies.
Word of the Zune HD's Tegra connection first emerged earlier this week, when tech Web site PC Perspective reported that the media player was using the Nvidia computing platform.
The Zune HD may well be the first Tegra-powered device when it hits the market later this year and the sleek device could give Nvidia significant shipment volumes for Tegra.
Nvidia took the wraps off Tegra at the Computex exhibition in Taipei earlier this month. Built around an Arm processor and an Nvidia graphics chip, the platform packs an entire computer onto a board that's slightly bigger than a stick of chewing gum.
Tegra could make the Zune HD an iPod killer.
The main advantage will be the ability of the Zune HD to play high-definition video. The release of iPhone OS 3.0 gives the iPod Touch and iPhone the ability to download movies and television shows directly from the iTunes store, but they can only play standard-definition files. Watching high-definition movies from the iTunes Stores requires the Apple TV set-top box.
The Tegra-powered Zune HD will be able to play 720p high-definition video and can be connected to a television via a special dock.
Another likely advantage will be the Zune HD's long battery life. Nvidia says Tegra can play music continuously for 25 days or play high-definition video for 10 hours before recharging. While Microsoft hasn't given an estimate for how long the Zune HD will run on battery, the device also uses an OLED (organic light-emitting diode) screen instead of a TFT-LCD, which will help reduce power consumption and help stretch its battery life.
Another possible advantage is Flash support, which would make the Zune HD's browser compatible with Web sites that use Flash — a feature that the iPod Touch and iPhone cannot match.