At a Glance
Expert's Rating
Pros
Bright, high-quality fingerprint-resistant touchscreen
Built-in GPS and compass
Decent autofocus camera with SD video capability
Extremely fast and responsive
All the new features of iPhone OS 3.0 Software Update
Voice control for phone dialing and music
Cons
Onboard video trimming is destructive
Requires two-year commitment to AT&T Wireless for lowest prices
Soft-looking video
Voice Control lacks some polish
Our Verdict
Third-generation Apple mobile phone
The iPhone 3G S has better battery life, power and speed compared to the 3G, and provides hardware-based features that enhance existing apps and functions on the phone. If all that matters to you, then upgrading is worth it, but if you're more of a casual iPhone user, then you can probably afford to wait a little while before you upgrade.
That's because most of the new features come from the OS 3.0 software update. These include copy and paste, landscape keyboard for text and email, Spotlight, the new Voice Memo app and changes to the Safari browser.
(For full PC World coverage of the iPhone 3.0 S launch, check out the stories in the box to the right.)
I won't go into too much detail on the 3.0 features here, since they were covered in the Living with 3.0 [beta] review by Sean Carruthers. But I will touch on some of the others that are more prevalent with the 3G S, including tethering, multimedia messaging (MMS), iTunes accounts, stereo Bluetooth, My iPhone and push notifications, to name a few.
And on top of that are the new features exclusive to the 3G S like, the new camera, Compass and Voice Control, among others.
3G S Style and Performance
On the outside, the iPhone 3G S looks almost identical to its predecessor. Like the iPhone 3G, it comes in either black or white, has the same dimensions and is more or less the same weight. The only aesthetic differences are the chrome lettering in the back and a screen that is more resistant to fingerprints and smudges. This basically means that your favourite iPhone 3G case should fit like a glove onto your 3G S.
The key contrasts come in the phone's overall functions and performance, which start under the hood. Simply put, everything is a little faster here. Opening one app, closing it, and then opening another app takes almost half the time it does on the 3G. This is all relative, of course, because some apps load more information than others, but in the grand scheme, the improved speed will be noticeable to anyone who has owned a 3G.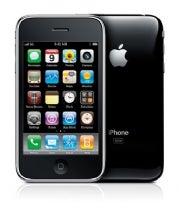 Battery life also shows noticeable signs of improvement, lending credence to the assertions made at the WWDC keynote on June 8. Though the numbers Apple stated may vary slightly, the 3G S definitely outlasts the iPhone 3G in every category. I was able to surf on Wi-Fi or 3G longer and listen to music and watch YouTube videos for much longer as well.
Tethering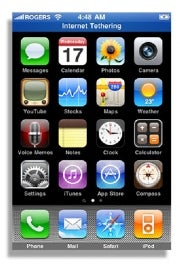 This feature has been in demand, arguably since the original iPhone launched in 2007, but with the 3G speed of last year's model, it seemed like the right time. It took close to a year, but iPhone 3G users will get the tethering benefits just like 3G S users, since it's part of the OS 3.0 update, and not exclusive to the 3G S.
Note: Don't get too excited, U.S. customers–these features won't be available at launch. According to AT&T, MMS won't come until late summer, and they did not give tethering availability.
Tested using Canadian carrier, Rogers: The beauty of this isn't really that it's finally arrived; it's the user-friendliness from start to finish. Under Settings on the phone, I went to Network and flipped "Tethering" on. A set of instructions for both USB and Bluetooth connections were right below, which was a nice touch. From there, I connected the phone to my MacBook Pro using the iPhone USB cable, immediately launching iTunes, which recognized that tethering was turned on. Then it was a simple matter of going to System Preferences under Network and adding the iPhone to the list.
Although I'm making it sound slightly complicated, the heavy lifting is actually done automatically, and you're directed on what to do by dialogue boxes that direct you. I was up and running in no less than two minutes. Doing this via Bluetooth takes a bit longer, but not by much. Once the phone has been paired with the Mac (or Windows PC), it becomes a simple process of making the connection and turning tethering on.
TetheringThe speed wasn't bad at all. Watching YouTube videos showed no real hiccups or slowdowns in performance, though this wasn't always the case when tethered via Bluetooth. Given that I was eating into my data plan, I would've liked if the phone could have somehow given me an indication of just how much bandwidth was being used back and forth. I tried to see if I could track it by going to the Usage tab under General, but the numbers never changed. And it took more than 15 minutes before I saw any changes in the Sent and Received amounts. Not a major issue to gripe about, but real-time data tracking would be very cool to see.
Despite all the positives, the tethering honeymoon may be short-lived, depending on what Rogers decides to do after December 31. For now, Rogers and Fido users can tether their iPhone 3Gs and 3G S's as part of their existing data plans, but there will be a fee of some sort for the feature thereafter. Whether it will be based on pay-as-you-go data usage or a monthly add-on is unknown because Rogers won't comment on it yet. If you have a data plan that's under 1GB per month, then Rogers will block tethering.
Multimedia Messaging (MMS)
The Text app from previous iPhones has now been replaced by a Messages app that encompasses text and MMS together. This means you can easily send photos or video to someone's email address or via text message directly to that person's phone. The process to do it seems pretty simple, and it covers a range of Apple's apps. For instance, if I tap on the icon in the lower left corner of the Camera app, I get the option to send the image as an MMS to anyone on my contact list via email, text or both.
Video is no different. And for MMS that you receive, you can always save the images to your own photo library or forward them to other contacts, if you like. The way it works is actually very basic, but its simplicity is part of what makes it cool. Attaching images to a message and typing in the text box bears no real difference from the previous iPhone's Text app, with the obvious exception of the media being sent.
Everything is threaded, which is a no-brainer, but it's also neat that you can erase specific messages in the thread if you choose. The "Clear" button on the top right has now changed to "Edit", wherein you can then checkmark and delete only the parts of the thread you want gone. And, of course, as part of the copy and paste features, you can easily copy a message from one thread and then paste it into another messaging thread, email or even your Notes app, among others.
MMS Rogers has indicated that users won't need a data plan to use the MMS feature, but that "value packs" are the best way to go to save money from pay-per-use costs. They did release new MMS value packs today to coincide with the OS 3.0 launch.
The New Camera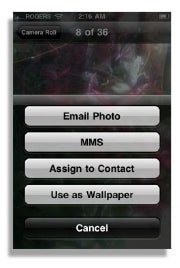 One of the core features of the 3G S that Apple touted at WWDC was the new camera. Video recording, a long overdue addition, is finally here, and it performs admirably, though not without limitations. Apple calls it "editing" but it's really more like simple trimming to cut out unwanted elements of the clip. A nice timeline shows up at the top that helps you navigate the clip, but dragging from the right end turns the border yellow and gives you the "Trim" option at the top right.
Video TrimNaturally, you can shoot in portrait or landscape mode at 30 frames per second, and send the clips to friends and family via MMS. The still camera, meanwhile, has been augmented by the 3-megapixel image sensor, which is meant to help it take better photos in more varied situations. One way of doing that is by allowing the user to literally touch the part of the photo he or she wants the lens to focus on. It works well, and looks a little snazzy with a white box that goes over the focal point, much like face detection features work on digital cameras. The sensor then adjusts the white balance and exposure to compensate for your chosen focal point. It usually works well, but you begin to understand why it's better to keep your focal point further away from the fringes of the frame, since the sensor may over or underexpose a large portion of the image just to get the focusing right.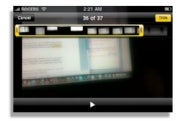 The camera's performance is still noteworthy, except that it proves to be the case more in daylight and well-lit settings. Photos in low-light are quite good, too, but they require lighting levels that can illuminate the subject enough to make the photo at least acceptable. The lack of a flash hurts the camera's ability to handle darker settings. Still, I did a comparison by shooting the same dimly-lit subject with both the iPhone 3G (left) and 3G S (right).

The difference is fairly noticeable, especially since the 3G S's camera generally has softer tones than the 3G's. I discovered that I could mimic the effects of a soft focus filter by using a piece of thin clear plastic over the lens, but I'm sure there will be third-party apps that will offer that and more.
Despite the lack of a flash, the improved camera is definitely a step up from previous iPhones, not least of which is the long-awaited addition of video recording. Time will tell how much more can be done with the camera once third-party developers start making video-centric apps.
Next Page: Voice Control, Stereo Bluetooth, and More
Voice Control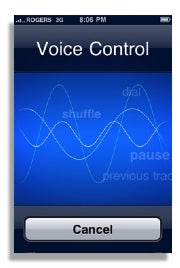 Another feature exclusive to the 3G S is Voice Control, which basically enables you to issue commands to the handset by speaking them into the microphone. By holding down the Home button for a couple seconds, the Voice Control screen pops up and beeps, which is your cue to tell it what you want. In my first test, I asked it to call a number by simply saying, 'call' and then reciting the number. But I could also just follow 'call' and say the name of a contact – and even specify between 'home' and 'mobile'.
More than that, I told it to 'play only songs from Akon', or 'play 80s retro playlist'. I even asked it to 'play more songs like this one' and it basically used Genius to shuffle songs together that matched what was playing. Voice Control always repeats what you've said, so you can confirm its accuracy, and you'll find it doesn't always get it right. In one case, I wanted to play a track from jazz musician Richard Elliot, but it gave me the Latino Players instead. Voice control Even with its flaws, Voice Control is still impressive. It isn't trained by your voice, so it can understand commands from anyone, regardless of gender, age and accent. And it does a good job of hearing you, even when you're a little distance away. The only issue is that background and ambient noise can really confuse it.
One drawback for me with this feature is that it won't work with Bluetooth headsets. I see the advantage of mounting my 3G S in my car and making and taking calls without even having to touch the phone, but that's not possible here. You can only pull this off with the included earbuds that come with the phone, which are the same ones introduced with the latest iPod Shuffle. The controls are on the right cord, and holding down the middle button can launch Voice Control.
Another gripe is that Voice Control doesn't launch apps. This may be a moot point, given that it's just as easy to navigate and launch it with a simple touch, but I can see the benefit of being able to launch an app that may be among dozens or even hundreds on the phone.
Stereo Bluetooth
Having mentioned the lack of Bluetooth with Voice Control, the addition of stereo Bluetooth finally makes it possible to listen to audio on the iPhone without the use of any wires. For some reason, I get the sense this may be an underappreciated addition to the iPhone, but for me, it's a definite plus.
I tried using a pair of Motorola S9-HD wireless headphones with the 3G S and found it to be simple to set up, since it's no different than pairing the phone with a typical headset. It was such a seamless transition overall. Though iPhone 3G users will get stereo Bluetooth via the OS 3.0 update, iPhone 2G users won't because the hardware inside wasn't designed for it.
Digital Compass and Maps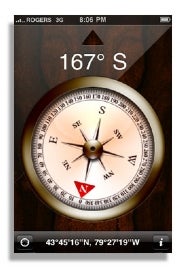 The inclusion of a digital compass is interesting on its own, but it's true benefit comes in how it integrates with the Maps app. The Compass app can face True North (by default) or Magnetic North, depending on your preference. The little reticle at the bottom left launches the Maps app to pinpoint your location.
CompassThe true value of this combination comes in the orientation. If you're driving somewhere and you're using the Maps app to navigate your route, tapping the reticle at the bottom left twice reorients the map so that it faces the direction you're heading in. Its execution is simple and comes in real handy when you're not sure which direction you're facing.
Unfortunately, this doesn't mean you will get voiced turn-by-turn directions as you drive along, since Apple hasn't included that in Maps. At WWDC, TomTom announced it will be releasing a GPS app that will offer this feature and more, so only time will tell.
Find My iPhone
Though there are third-party apps already for the iPhone in helping you track it if it's been lost or stolen, Find My iPhone is a feature that takes that premise and expands on it by allowing you to wipe all traces of yourself and your data remotely, and in the case of the 3G S, instantaneously. Though the feature will work with the iPhone 3G and 3G S, the process of locating the phone and wiping data takes longer with the 3G. The 3G S, on the other hand, can receive and execute those functions in seconds, even from a considerable distance.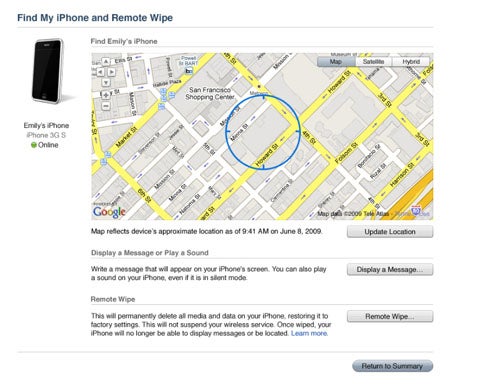 The added bonus is that you can trigger an alarm on the phone, even if it's on silent mode. This can either reveal where the phone is, in case you've misplaced it at home, or embarrass and expose someone who has stolen it. So long as Location Services is toggled on under the General tab in Settings, then you're good to go – except there's a catch. Find My iPhone is only available to MobileMe subscribers, so non-members are unfortunately out of luck in utilizing the feature.
Other Features
Given the array of new features in OS 3.0 alone, there's a lot to take in when looking into some of the additions that might cater more to specific users. Syncing the Notes app with your Mac or PC is now possible, which is yet another long overdue function that many iPhone users have likely clamoured for. Now it's here to stay. Finally.
The ability to log into your iTunes account and rent movies directly from the phone is another that intrigued me, personally. I'm not one to rent too many films, but I liked that I could rent one with a resolution and file size that made sense for the phone. It would make no sense, and certainly take way too much time, to download a 3GB high-definition video file for a device with a 3.6″ screen. What makes this even better is that I could purchase or rent the movie on the iPhone, but then download the HD version onto my Mac (or PC) once I connected the phone to it.
Speaking of accounts, you also get the added benefit of logging into your YouTube account directly from the phone. I should also mention that you can upload video clips you shoot with the 3G S directly to YouTube through the phone as well. The beauty of this, of course, is that you can access whatever content you've posted onto the popular video-sharing site. Personally, I'm more of a spectator on YouTube than a contributor, so having access to my YouTube account didn't make a huge difference. But that's just me.
I also wasn't overly enamoured with the Shake to Shuffle feature. Sure, it's neat to shake the 3G S to undo something or to play a random track from my music library, but the relative delicacy of the handset makes me think that one wrong shake could prove disastrous for the phone's well-being. I take the feature as something users will meet with either outright enjoyment or sheer indifference.
One feature that has shown little so far, but offers so much promise, is push notifications from third-party apps. Up to now, Apple's apps have enjoyed the privilege of "pushing" information to the forefront of the phone, no matter what you were doing on it. It's expected that developers will apply the same function to their own apps, thereby making it possible to get a notification when someone has written on your wall on Facebook, for example. Let's wait and see how that all turns out.
Another interesting one to keep tabs on will be the peer-to-peer (P2P) connectivity mentioned at the WWDC keynote. The idea of playing games on an iPhone 3G S against someone using the latest iPod touch seems really cool, but without having really given it a run-through, I'm not sure what to make of it yet.