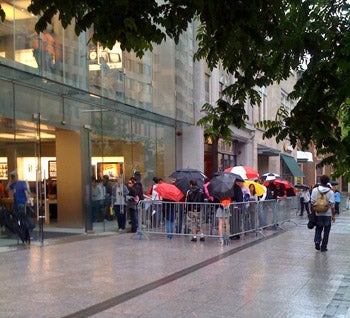 By the beginning of business In Boston today, about two dozen people had queued outside the Boylston Street Apple Store to pick up the iPhone 3G S. The lines were longer than those in San Francisco, which at least had better weather, and some East Coast and international locations reported crowds.
These eager Boston shoppers shielded themselves from the drizzle and the rain with oversized, colorful umbrellas — one of which adorned with the Apple logo. Two bored-looking police officers stood sentry outside the store's entrance, and the line inside appeared to be processing smoothly and without the gleeful chaos prominent during the release of the iPhone 3G.
In fact, the crowd here held no similarities to the one amassed over a year ago — lines then stretched around the block, and people were clumped together in nerdy camaraderie rather than evenly and quietly dispersed.