The new iPhone 3G S is still a comparatively popular device, but it has not unleashed a worldwide wave of enthusiasm like its predecessor, the iPhone 3G. Despite long lines in Tokyo, eager early buyers in Paris, and some dedicated enthusiasts in Auckland, New Zealand, we're not seeing the same iPhone mania as we have in previous years.
Here's a quick trip around the world in pursuit of the iPhone 3GS:
Auckland
Despite the promise of free tethering and the honor of being the first iPhone 3G S owners in the world, the iPhone lines in Auckland were lackluster at best. Only ten hours before launch, just five people were line for the 3G S. To put that in perspective, the Kiwi iPhone fans rivaled early line-ups in New York and San Francisco.
Tokyo
The Japanese Website +D Mobile estimates about 200 people were waiting in line this morning at the Softbank flagship store in Tokyo's Omotesando shopping district. It looks like a worldwide recession can't stop Japan's gadget love, but it has slowed it down.
Regent Street, London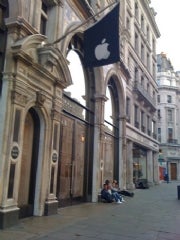 Like many other locations around the world last year, Apple's beautiful Regent Street Store in London was overwhelmed with customers waiting in line for the 3G. But today, well, not so much.
Blogger Richard Lai posted a play-by-play of his pursuit of the iPhone 3GS. Lai arrived around 5:20 a.m. and was about the fifth person in line. By the time he got in to get his iPhone, there were only about fifty people pursuing the iPhone 3GS.
New York
Apple's Store on Fifth Avenue has been the scene of previous iPhone mayhem, but don't expect similar scenes today. Just before dawn very few people were lining up at Apple's famous glass cube, according to numerous reports. But by the time the store was ready to open at 7 a.m. Eastern Time, the crowd had grown to several hundred. But will it last through the day and the weekend as it did last year? Not likely.
Boston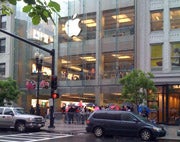 East Coast buyers in Boston queued up in a drizzle to pick up their iPhones early.
My Boston-based colleage Brennon Slattery reports that the scene lacked the party atmosphere of the past.
San Francisco
Technologizer and former PC World Editor-in-Chief Harry McCracken re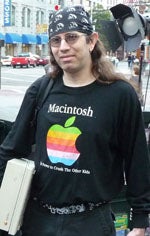 ports on a non-event at his local Apple Store at San Francisco's Stonestown mall. McCracken was the first one in line at 3:15 a.m. Pacific Time. By 6 a.m., McCracken says, the line had grown to eight, way down from iPhone 3G levels.
Downtown San Francisco is about the same as New York, says roaming PC World Senior Editor Melissa Perenson. Here's a Macworld slide show of iPhone buyers at the San Francisco Union Square Apple Store.
However, things got livelier when the doors opened and the first happy buyers burst in to claim their new phones.
iPhone App-athy?
With all the relatively short lines at Apple stores around the world, you might be tempted to believe this is the end of iPhone frenzy. Not so fast, though. Remember, the iPhone 3G S is only a mild improvement over the iPhone 3G. Sure the 3G S is faster and has double the storage, but as far as features go this phone is not a huge jump over the 3G.
The real advancement, according to critics and iPhone users, is the new iPhone OS 3.0 software, and not the new hardware. I've heard from several people who've said upgrading to 3.0 is like getting a brand new phone.
So it's not surprising that not too many people are willing to camp out for days on end to get their hands on the 3G S. But if Apple should introduce a revolutionary iPhone next year, or even the oft-rumored Apple Tablet, we just might see iMadness all over again.