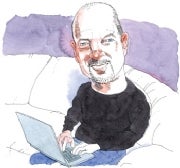 As an average Joe, you don't demand the fastest machine around, and you certainly don't care about every single bell or whistle that many pricey laptops offer. You need a laptop that offers good value, one that has a couple of key features–and if it can provide a little extra, so much the better.
You require something portable enough to let you take work on the road, and maybe entertain the kids with a movie. Perhaps it can enable you to play a few casual games in your off hours, and, of course, surf the Web, compose e-mail, and juggle Office documents.
CPU
Most all-purpose laptops these days offer decent performance. You won't need to expend much effort to find a notebook that can deliver decent video playback and run your office applications at a reasonable clip. Heck, you might even be able to sneak in a bit of casual gaming on the sly.
As for which CPUs to consider–whether AMD or Intel–you don't have to lay out a fortune. An Intel Core 2 Duo T6400 Mobile CPU, for example, is plenty for handling Windows Vista's everyday chores. AMD's 2.3GHz Turion X2 Ultra Dual-Core Mobile ZM-84 CPU, also available in value-priced all-purpose portables, doesn't run quite as quickly, but it delivers just enough gusto for a slightly lower price than Intel products.
System Memory
The cheapest and best way to get a quick performance boost in any computer is to load up on the RAM. Most machines offer at least 2GB of RAM these days. (One warning: The 32-bit versions of Windows Vista support only about 3GB of RAM; if you plan on ever going higher in your laptop, make sure that you buy a 64-bit version of Vista.) The safe bet is to upgrade memory from the get-go: If you're having your laptop built to order, add RAM then. Upgrading to 3GB or 4GB may seem like overkill initially, but if you want to hang on to the laptop for a while, that extra memory will keep your system motoring longer.
Graphics Board (aka GPU)
The GPU can make or break your experience on a laptop, yet this is the first thing the manufacturer will give short shrift to in order to achieve a lower price. At the very least, go for a notebook that offers a discrete graphics board option, even if you're not completely convinced that you'll need it. A GPU can affect the system's performance in ways you may never have considered, so don't dismiss discrete graphics as being a necessity only for gamers. Maybe you want to watch a movie in glorious 720p on the notebook's expansive screen. Or perhaps you'll find yourself charmed by Vista's Aero environment–all of that eye candy gets a big boost from a graphics processor.
Screen Size and Native Resolution
If you're buying a laptop for general-purpose use, the sweet spot for screen size ranges from 13 to 16 inches, depending on your specific needs. But in considering such sizes, many shoppers fail to take into account the display's native resolution, which is typically too low and can make for some hard-to-read text. It's a personal-preference thing, but I'm partial to laptops with 14-inch screens. That size is just roomy enough to accommodate video well, yet it still makes for a machine that's easy to transport.
If video is your thing, try to steer toward a laptop that offers resolutions capable of widescreen 720p video. (Hint: If the screen has a resolution above 1280 by 720, it could technically give you a 720p picture, so long as the laptop has the horsepower. For example, the Samsung R610, which has a 1366-by-768-pixel resolution, can handle the job.) Most notebook screens should be able to do that now, but you also need to consider whether the laptop's graphics processor is capable of producing the optimum picture (see above).
Battery Life
First, ask yourself how much travel time you'll need with your laptop. On average, an all-purpose notebook will last about 3.5 to 4 hours on a single charge. If you don't expect to go mobile often, don't bother with a big battery. If you'll be bringing your machine on the road regularly, start looking at higher-capacity batteries for the next long haul. And don't trust vendors' battery-life specs–many of them quote times for their laptops configured with higher-capacity batteries and with many of the notebook's features turned off (dimming the screen brightness to nothingness and shutting off Wi-Fi, for instance).
Want the straight scoop? Check out our WorldBench 6 test results for laptops (start at our Top 10 All-Purpose Laptops chart). We use a bunch of real-world programs in real-world situations, and we run the notebooks into the ground.
Optical Drive
These days almost every laptop packs a DVD burner–and many of them offer LightScribe technology for inscribing images or labels on top of specially coated discs. For enjoying high-definition flicks, Blu-ray Disc is the format of choice. Most laptops come standard with a DVD-RW drive, but BD-ROM drives are slowly creeping into all-purpose laptops too. Of course, adding a BD-ROM drive often means tacking a few extra bucks onto the price tag.
Connectivity
Most all-purpose machines offer three or four USB ports, an SD/Memory Stick flash card reader, a Webcam, headphone jacks, VGA ports, and ethernet jacks. And without exception, such notebooks also have at least 802.11g wireless (802.11n should be ubiquitous within the next few months).
Extra Features
For the near future, you'll want to have HDMI-out (for high-definition video) and eSATA (for high-speed data transfers). Another addition that notebook makers are including more often as time goes by is a hybrid USB/eSATA port. We're also seeing some all-purpose models with a pass-through charging port, which allows you to charge a USB-powered device through the laptop–even when it isn't on.
Our All-Purpose Laptop Picks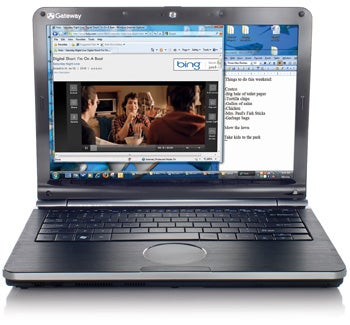 Selecting one laptop that's perfect for everyday use is a bit tricky, but the Gateway UC7807u hits most of the basic needs for under $800. It might not be the fastest thoroughbred in the stable (it earned a mark of only 80 in WorldBench 6 tests), but it is fast enough to finish the race–while carrying a host of features. Gateway manages to cram in both HDMI and VGA video outputs, three USB 2.0 ports, an ExpressCard slot, a flash-card reader, ethernet, Wi-Fi (802.11 a/b/g/n), and Bluetooth. The machine also provides a slot-fed DVD burner and a 5400-rpm, 320GB hard drive. The UC7807u does have several drawbacks: For one thing, it stumbles in the stamina department, lasting only 3.5 hours in our battery-life tests. This Gateway is also fairly heavy (5.3 pounds) for an all-purpose model with a small screen.
Another all-purpose alternative is the $800 HP Pavilion dv3, which lasted about 2 hours longer than the Gateway UC7807u did in our battery tests and offers eSATA ports and other great options in a lightweight frame. Unfortunately, the dv3 scored a measly 64 in WorldBench 6. If you're looking for a bigger screen, consider the Dell Studio XPS 16. Its hardy construction and sweet-looking 16-inch screen will grab your attention. Of course, with that high-end display, it will also grab your wallet–our review unit would set you back about $1800.
Illustrations by Joe Ciardielo.