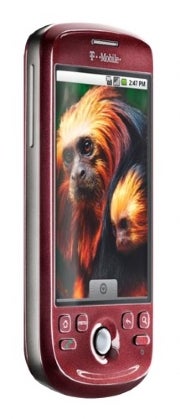 Tired of the iPhone 3G S and Palm Pre madness and looking for something different? Consider the T-Mobile myTouch 3G, the second Google Android-based phone to hit the U.S. The svelte, lightweight phone sports a 3.2-inch HVGA touchscreen display and virtual keyboard, which orients automatically from portrait to landscape mode in most applications via the phone's built-in accelerometer. myTouch 3G also has a music player with Amazon MP3 integration and a 3.2-megapixel camera.
You can also record video — a feature the G1 was missing at launch — thanks to the Android 1.5 update which comes preloaded on the myTouch. And like iPhone OS 3.0 (which also delivered the long-awaited video recording capability), you can upload your videos directly to YouTube from the camera app.
U.S. Android fans have been teased with a follow-up to the T-Mobile G1 since the beginning of this year. First, in February, we saw the HTC Magic, which launched on Vodafone in Europe. While there was no U.S. carrier announcement, it seemed likely that it would launch on T-Mobile as the successor to the G1. With the exception of a few rumors and sketchy photos, there wasn't any solid news about the "G2" until the Google I/O conference in May. Attendees received the Google Ion, a developer version of the HTC Magic. And accompanying the phone was a T-Mobile SIM card, which pretty much confirmed the Magic's destination.
The myTouch will be available to pre-order for current T-Mobile customers starting July 8. The phone will cost $200 with a two-year agreement putting it on the same price level as the 16 GB iPhone 3GS and the Palm Pre. Devices sold through pre-sale will begin shipping in late July and national retail availability for myTouch is planned for early August. It will be available in black, white or merlot.
For a closer look at the T-Mobile myTouch 3G's hardware and software, check out our hottest smartphones of summer slideshow.