UPDATE 6/30/2009 — An earlier version of this story mentioned that the Acer Aspire AS5739G will have a Blu-ray drive. Acer has since modified the specs for the AS5739G, and the new model will instead have an 8X DVD double-layer drive.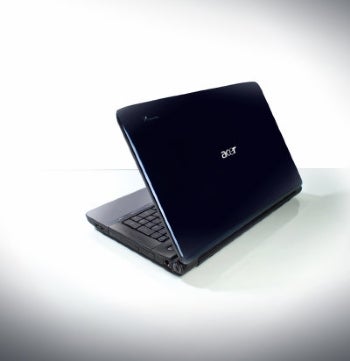 Late last week, Sony dropped news of its "affordable" entertainment notebooks ($880 isn't too shabby for a notebook sporting a Blu-Ray drive, but still…). Of course, it didn't take Acer long to fire back with bargain deal of its own. Acer's new line of budget-friendly Aspires promise full-size performance, but in a netbook's price range. And a $750 all-purpose all-star, supposedly a "multimedia powerhouse."
But let's start with the The 15.6-inch Aspire AS5536 and 17.3-inch Aspire AS7735Z ($480 and $600, respectively). Both boast LED backlit technology, a 16:9 aspect ratio, and low-end graphics to give you a subtle multimedia kick.
Both notebooks here feature a nifty multi-gesture touchpad (which will let users scroll, zoom, and flip through photos and spreadsheets with just the flick of a finger) and "Acer Backup Manager," a one-touch way to back-up files and information. The Aspire AS7735Z also has a "PowerSave" key, which is a one-button way to activate advanced power saving settings.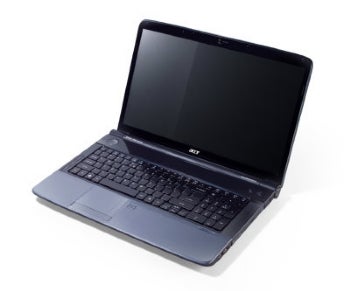 So what does the $120 difference buy you between these two models (besides the larger screen)? The AS5536 packs AMD Athlon 64 X2 QL-64 CPU, 3GB RAM, ATI Radeon HD3200 graphics and a 320GB hard drive. The AS7735Z trades a discrete GPU for lousy integrated performance and a 250GB hard drive, but opts for 4GB of RAM and an Intel Pentium T4200 Processor.
The Aspire AS5536 and Aspire AS7735Z also feature an 8X DVD double-layer drive. Other hardware includes a built-in Webcam and 250GB hard drive.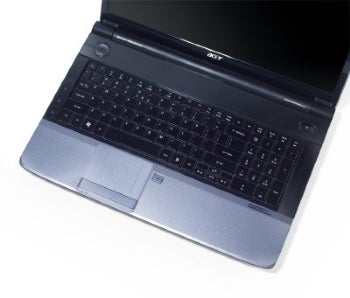 If you're looking for a step up in performance (and price), the 15.6-inch Acer Aspire AS5739G starts at $750 and offers users an Intel Core2 Duo T6500 processor and Nvidia's GeForce GT130M graphics card — so you might actually be able to play games on this thing. Touted as a "mobile multimedia powerhouse," the Aspire AS5739G also features built-in stereo speakers, a bass booster, a 5.1-channel output for surround sound (we'll believe it when we see/hear it). How will it perform in comparison to the Sony notebooks? That's a question best left for the PC World Labs. Check back and we'll give you the full scoop once a review unit shows up.
The Aspire AS5536 and Aspire AS7736Z should be in stores now, and the Aspire AS5739G will be available at the end of June.