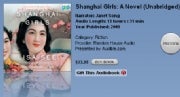 Own a Kindle and an iPhone? If you were hoping to take that copy of Lisa See's Shanghai Girls to the beach with you in your back pocket think again. That's because the restrictions on books you buy and downloaded to your Kindle may not be transferable to the iPhone's Kindle App. These restrictions stink and lessen the appeal of the Kindle and the ultra-portability of digital books.
Ever since the Kindle was launched in 2007, it has been touted as the literary equivalent of the iPod. In other words, the Kindle is supposed to do for digital books and magazines, what the iPod did for digital music and video. That vision has changed from time to time, but seeing Kindle as the savior of the print industry has remained a common theme. There's only one problem with this view: it's just not true.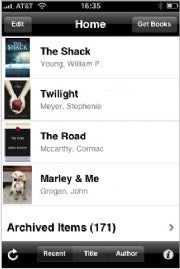 To illustrate my point of view, I offer the experience posted by Dan Cohen to the site Geary Diary's. Cohen says he owns a Kindle, an iPhone recently upgraded to OS 3.0 as well as a shiny new iPhone 3G S. He's a little fuzzy on why this happened, but somehow none of Cohen's devices had a copy of a digital reference book he'd purchased from Amazon. Cohen said he needed to use this book over the weekend, so he attempted to re-download the book to both of his iPhones using the Kindle App for the iPhone.
Amazon Claims Ignorance
Unfortunately for Cohen, he was not able to download his book due to Amazon's Digital Rights Management system for Kindle books. Making matters worse, Cohen discovered several troubling issues after speaking with Amazon's customer service. In short, Cohen claims Amazon does not clearly notify you how many times you may download a specific book; and the number of possible downloads for a specific book varies from publisher to publisher and even title to title. Cohen also claimed that Amazon does not know how the download limits for any of its Kindle titles.
While this horror story may only apply to Cohen's specific title, his story clearly highlights problems with Amazon's Kindle. Part of the reason Apple was so successful with the iPod is the fact that buying iTunes music is just an updated way of owning recorded music. Sure, when all iTunes music was controlled by Apple's DRM system there were some restrictions, but even those restrictions were fairly generous. Apple always balanced the needs of the customer and the content producer, and the restrictions were designed to allow you to use your purchase with long-term, reasonable flexibility.
Here's where Amazon differs:
Restrictive Downloads
Unlike Amazon, Apple will only let you download a specific song or video once. After that, you're on your own; if you break lose the file or it becomes corrupt, tough. Apple's policy may seem harsh, but it's really not that bad. In fact, it's exactly what would happen to you if you bought that music on a CD, tape or even an LP. Once you're out of the store, the product is in your hands, and you're responsible for taking care of it.
Amazon, on the other hand, will let you download some titles numerous times, while others you may only be able to access once or twice. Problem is, Amazon does not tell you how many times you can download a specific title, and you don't have the option to back up your purchases onto your personal computer like you do with an iPod.
Control of your purchase
Music and books vary greatly in how they're used and traded in every day life. Before Napster came along, music lending was not as common as it is today. The technology essentially changed the habits of the end user. Books, on the other hand, have a long history of sharing, swapping and lending. Unfortunately, the Kindle doesn't let you do any of this.
But, oddly enough, Apple's iTunes Store does let you swap and lend — unofficially, anyway. Under Apple's rules, you're allowed to burn purchased music from the iTunes Store up to seven times. This means you can create a mixed CD for a friend even with DRM-protected music. Sure, it may not be a sanctioned way to use your purchased music, but you can still do it.
So why can't you share with the Kindle? Why not allow Kindle users to swap and trade eBooks like you can with paper books? Amazon would have to build in some restrictions, but lending and swapping books is an old tradition that will not easily die. If Amazon wants to encourage widespread Kindle adoption, a great first step would be to figure out reasonable ways to let people lend and swap.
Device Syncing
Apple clearly states in its Terms of Service that you may sync your music with up to five computers at any one time, and to an unlimited number of iPods attached to a specific computer. While these restrictions are not completely free they still allow you a lot of flexibility on how you use your purchases.
Amazon has started to move in the right direction by letting you sync your eBooks with your iPhone. But it needs to go further. How about multiple Kindle syncing with one account?
Clear Terms, Uniform Usage
Apple spells out in clear detail what you can and cannot do with your iTunes Store purchases. More importantly, those terms are uniform. That means all music is covered by one set of usage rights and another set of rights covers video. There's no mixing and matching, and there are no special exceptions. Apple's terms are one-size-fits-all, no matter what you buy.
Amazon's terms of usage don't come close to being as specific as Apple's, and maybe the publishing industry won't allow specific and uniform terms of usage. But if that's the case, then Amazon needs to be clear about how many times you can download a given title, and how many devices it can be synced with at any given time.
Fit the Kindle into society, not society into the Kindle
On its face, the Kindle is an innovative device that really does have the potential to reshape publishing. But not with the Kindle Store's current structure. Instead of focusing on how to protect content from piracy, Amazon and the publishing industry need to sit down and figure out how they can balance the industry's need to control their product in a digital economy, while providing you with reasonable control over your own purchases. Those rules also need to be designed for the lifetime of the customer, and not the lifetime of one Kindle device.