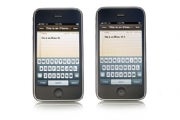 Apple said Monday it has sold more than one million iPhone 3G S models during the first three days of the device's launch. That's the same vague number Apple used last year after the predecessor iPhone 3G had been on the market for one weekend. In its press release, Apple did not specify whether the newer iPhone's sales are better than its predecessor's; however, some publications are reporting the 3G S outperformed the 3G.
If true, I would find that incredibly surprising. When the iPhone 3G launched in July 2008, the device attracted unparalleled attention and excitement. Scenes from the 3G's debut weekend were of absolute fanboy madness, paired with incredibly long lines and activation delays. In fact, if you tried to purchase an iPhone 3G following its 2008 launch weekend, things didn't get much better. Apple and AT&T retail stores were constantly running out of stock for weeks following the 3G's launch.
To keep up with demand and tamper public expectations, Apple had to put up an iPhone 3G availability tool on its Website. Using that tool, you could punch in your Zip code and see how many iPhones were available in locations near you. But that wasn't enough for some bloggers. In New York City, for example, the blog Curbed provided updates about Manhattan's iPhone situation and reported on iPhone availability throughout the day.
Compare that to the lines across the world for the iPhone 3G S. While the excitement did build throughout the day on Friday, there was no real 3G S frenzy compared to the iPhone 3G. There were reportedly exceptions, including Paris and Tokyo, but that excitement was not the rule. However, just like its predecessor, buyers had activation delays with the iPhone 3G S.
The lighter crowds could be attributed to the heavy market penetration the iPhone already has — 21 million as of March 2009. Or it could be that the iPhone 3G S isn't perceived as dramatic a shift as the iPhone 3G was — possibly due to high expectations. Regardless, it seems doubtful the 3G S' over a million mark would be greater than the 3G's.
In addition to 3G S sales, Apple said six million customers have downloaded the iPhone's updated firmware: iPhone OS 3.0.
Apple's announcement also included a quote from Steve Jobs lauding the wonder that is the iPhone. While the statement is not groundbreaking, the appearance of the quote shows that Apple may be starting to shift the spotlight back onto its star executive. Jobs has stayed out of the public arena since his announcement earlier this year that he would be taking a leave of absence for health reasons.