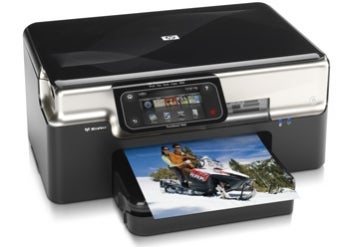 Hewlett-Packard unveiled a new line of printers that allow you to access and print Web content from partners Google, Nickelodeon, and USA Today without a PC. The new printer line, unveiled at an event in San Francisco today, is part of a new HP printer technology called TouchSmart Web.
The printers take advantage of the HP's TouchSmart screen and software technology, first seen in the TouchSmart series of all-in-one PCs. Printers outfitted with this TouchSmart Web will feature a Web-connected touch LCD display mounted on the front of the printer, allowing you to navigate a list of HP applications for printing maps, Snapfish photos, or coupons.
Central to the new platform is the launch HP Apps Studio, which allows the printer to expand its range of content that can be downloaded from the Web and printed as new content applications become available.
The HP Photosmart Premium with TouchSmart Web will be the first printer in the line. Due this fall, the printer will be priced at $399, and will have a 4.3-inch touchscreen and integrated memory, so the printer can connect wirelessly to the Web and access apps for direct-from-Web printing. This approach eliminates the need to fire-up your computer to print Fandango tickets or grocery coupons, for example. The printer will support fax, copy, scan, and duplex printer, too.
The Power of Apps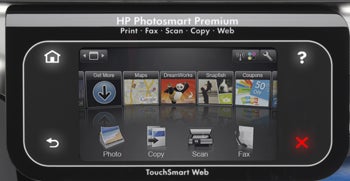 Whereas the word "application" feels stodgy, Apple's iPhone has made "apps" attractive and hip, even for the mainstream consumer that doesn't think in terms of antiquated computing terms.
HP takes full advantage of the "app" rage to develop a new app platform that can be customized to fit your lifestyle and needs. They're on to something–although this feels like it's 15 years too late. Customizable news content you can print on-demand, for example, was available via CompuServe a decade and a half-ago, but it was no mass-market implementation.
Now, though, you'll be able to walk right up to your printer, and print what you need, without launching your PC (which involves both the actual process of launching the PC as well as the process of trying to stay focused on the "one" thing you booted up for to begin with).
The HP App Studio supports open APIs to encourage developers to create content; individuals will be able to create and share their own apps later this year. The launch partners announced today include USA Today, Google, Fandango, Coupons.com, DreamWorks Animation, Nickelodeon, Web Sudoku, and Weathernews.
The apps that these first partners will offer will enable direct access to maps, printing customized daily news, coupons, coloring pages, movie tickets, recipes, and personal calendars. Additional apps will be available as new developers come on board; HP says apps will be free for consumers to download.
"We don't want to make any trade-off to buy this Web connectivity," said Vyomesh Joshi, executive vice president of HP's Imaging and Printing Group. At the event, Joshi declined to discuss the actual business model behind the App Studio., but in the output examples, sidecar on-page advertising opportunities appear viable.
The underlying technology is HTML and Linux based; the Web kit browser runs on the embedded Linux OS; inside, there's an IMX 31 processor. The apps don't take a lot of resources, according to Joshi.
In the demos, some of the apps appeared a bit slow, somewhat akin to browsing a graphics intensive Web page over the iPhone using EDGE. But, the apps appeared useful: Pick which section you want to read, and it will print a one-page view of the news. The device has a built-in keyboard with wide, circular buttons the size of a small hand's finger pads.
HP noted how customized coupon printing would be less wasteful than the current newspaper model, where tons of coupon leaflets go out en masse only to end up being tossed out by consumers. However, the company didn't discuss the printer's cost-per-page for ink and paper, but you can control whether you print in color or black-and-white. (The printer replaces the C8000 series; the 5-ink cartridge-based print engine is similar, but has some tweaks, according to an HP spokesperson.)
A Printers Paradise?
Some aspects of this appear compelling–printing a Google map or a day's entry from Google Calendar, printing coupons for the restaurant or supplies I need today, printing movie tickets, or even a Sudoku puzzle or customized newspaper to take on the morning commute. However, I fear that the ink and paper costs might quickly outweigh some of the conveniences (or, for example, the parallel cost of ordering a local paper). The idea of not having to handle newsprint is enticing, and this could be a viable means of delivering news content to homes; but, will it pay to print that 25 cent coupon on a page that might cost a third of that to print?
One nifty extension of the HP App Studio: Since this entire platform uses the company's TouchSmart technology, HP says we can expect to see its Apps pop up on TouchSmart PCs, too. That could be a very handy and useful extension of this technology in a variety of work, education, and home scenarios. The company didn't indicate how soon the HP App Studio introduced here might migrate to its TouchSmart computers and laptops.