Adobe is set to introduce Flash Player 10 for most mobile operating systems later this year, including Google Android, Microsoft Windows Mobile, Nokia Symbian, and Palm WebOS.
Adobe's CEO Shantanu Narayen said during a recent earnings call that multiple partners of the company have already received an early version of Flash Player 10. Developers will be able to get their hands on a beta version of Flash Player 10 mobile later this year, at Adobe's Max conference in October.
Flash Player 10 will enable smartphones running on the above-mentioned operating systems to benefit from a richer Internet browsing experience, including watching videos embedded on some websites. Web-based applications can also be built on this platform, theoretically freeing developers from any applications stores.
By now, some mobile platforms, including Nokia's Symbian, have been enjoying a simplified version of Flash 8, which users know better as Flash Lite. The new Flash Player 10 is set to bring an improved graphical and audio performance, across more mobile OSs.
Adobe Mum on iPhone Flash Specifics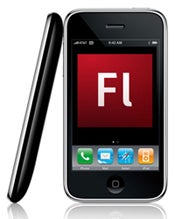 But one big name cannot be spotted in the mobile OSs crowd that Adobe will launch Flash Player 10 for: the Apple iPhone. Adobe has dashed hopes for an early iPhone version of Flash in February, when Shantanu Narayen said that his company and Apple are still collaborating on Flash for the iPhone, with no specific launch date in sight.
With the iPhone left out of the equation (so far), the other mobile platforms will have something to brag about until Apple jumps on board. Although with Apple's secrecy, who knows if the Cupertino company is actually bringing Flash to the iPhone?
The underdog and the winner
Google's Android should have the biggest advantage from the release of Flash 10, especially as a plethora of smartphones running this OS are expected to come within the coming months. A 2.0 version of the Android OS (aka Donut) is expected around the same time as the launch of Adobe Flash Player 10 mobile.
Meanwhile, Palm's WebOS managed to get on the Flash Player ship very early, even though the company has released its new smartphone, the Palm Pre, together with a new OS, just at the beginning of this month. Palm is yet to release a software development kit for WebOS (expected sometime at the end of the summer).
Although betas of Flash Player 10 will be released for developers this October, users will most likely see applications built on this platform only in early 2010.