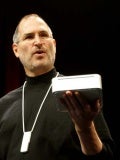 According to reports coming from employees on Apple's Cupertino campus, Steve Jobs has returned to work as the company's CEO. Jobs, who has battled pancreatic cancer in the past, has been on a medical leave of absence since January.
Apple's PR department has not made an official statement about Jobs' return, and as of the time of this writing, have not returned e-mails requesting confirmation.
The Wall Street Journal reported that Jobs underwent a liver transplant within the past two months. In January, he said he was taking time off to recuperate from a hormone imbalance that caused, among other things, a significant weight loss.
The date of Jobs' return to work has been the target speculation for several months. Many believed that his return would coincide with the release of the iPhone 3G S, but Jobs did not take the stage for during Apple's recent WWDC event.
The question has been asked about whether or not Apple functioned well without Jobs or if his return comes in the nick of time. Either way, it's good to hear that Jobs is healthy and capable of working again.