A significant number of Blackberry owners suffer from iPhone envy, according to a new report out today. Four out of ten Blackberry owners and other smartphone users said they would switch to the iPhone when it comes time to purchase a new device, according to the survey by Crowd Science, an online metrics firm.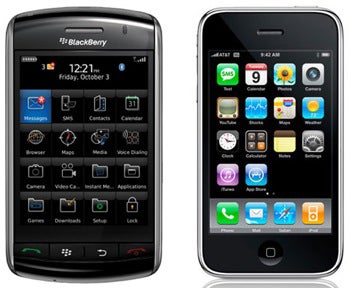 The future for Blackberry doesn't look that bright either, since the same survey says only fourteen percent of smartphone users would switch from another phone to the Blackberry. Crowd Science's survey follows a report of stagnant subscriber and shipment growth for its wide range of devices from Blackberry maker, Research In Motion.
iHappiness is…
Crowd Science also says a whopping 82 percent of iPhone users are loyal to their Apple brand, and iPhone owners are apparently more satisfied with their device than any other group of smartphone users. As if that wasn't enough iPhone love coming from this survey, Crowd Science also found that iPhone users outpace all other smartphone owners in taking advantage of their device's capabilities. According to Crowd Science, while Blackberry owners and other smartphone users are still trying to figure out how to use their e-mail, iPhone-heads are using their device to listen to music, play games, use their GPS capabilities, make purchases from the iTunes store, and on and on.
Interestingly, Crowd Science also found the nature of the smartphone is changing: only 3 percent of all smartphone owners are using their device for business, while 71 percent of those surveyed are using their devices for both work and play.
iCrack?
This survey just pours on way too much iPhone love for my liking. It wouldn't surprise me if iPhone users were using their devices for a wider range of actions, since the iPhone-iTunes App Store ecosystem is so strong. The iPhone is also a device geared toward the everyday user, so the fact that consumers are using it as an entertainment device/mobile Internet gadget/ GPS unit (coming soon)/camera/phone is not surprising. Consumer exuberance and slick marketing may also explain the 82 percent satisfaction rate Crowd Science found among iPhone users.
But what about that forty percent of Blackberry users who are thinking about making the switch? That seems awfully high to me. But when you take a look at Crowd Science's methodology, these numbers make a little more sense. The metrics firm said their survey sample included users 14 years of age and older from Web sites across a "wide range of topic areas serving over 20 million unique visitors." The participants were profiled by Crowd Science during one of those pop-up surveys you see when you visit certain Web sites.
But what caught my eye was the fact that Crowd Science said they conducted this survey between May 19 and June 8 of this year. Remember what happened on June 8? Oh yeah, Apple's keynote address from the company's Worldwide Developers Conference where they introduced a highly anticipated new iPhone.
So just when Apple mania was at a fever pitch — when thousands of iPhone-centric new stories, blog posts, comments, tweets, and rumors were being produced — Crowd Science decides to survey the public about the iPhone.
Bad Timing
I'm not saying the iPhone isn't a popular device, but based on the timing of this survey, the results might be just a bit skewed? If Crowd Science really wants to do an interesting survey, it should put iPhone satisfaction to the test in September after the summer of smartphones is over. That would be a perfect time to see how the iPhone 3G S (or is it 3GS?) stacks up against the Palm Pre, myTouch 3G, the Blackberry Tour, the Nokia N97 and whatever other smartphones are headed our way.
Well, that's all I have to say. Now it's your turn. Ladies and gentlemen, the floor is yours.