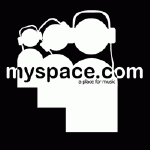 The employment picture at MySpace isn't getting any brighter. Just one week after MySpace announced it would cut 30 percent of its work force, the social network said 300 people from its international offices would be let go. That means MySpace will cut its international work force by a full two-thirds, as MySpace currently employs 450 people outside the United States.
MySpace also says it will be closing at least four of its non-U.S. offices. It hasn't decided which ones yet, but the company is putting locations in Argentina, Brazil, Canada, France, India, Italy, Mexico, Russia, Sweden, and Spain under review. As part of its restructuring plan, MySpace offices in London, Berlin, and Sydney will become regional hubs for MySpace operations. MySpace offices in Japan and China will be unaffected by today's announcement.
In a letter obtained by TechCrunch, reportedly from MySpace CEO Owen Van Natta to company employees, Van Natta blames the job cuts on trying to grow MySpace's European operations too quickly. Van Natta says MySpace will refocus on "regional business partnerships and integration in a smaller number of territories, while retaining a robust international presence." Van Natta also said the current plan is only a proposal at this point, as some countries require MySpace to consult directly with employees before carrying out any cutbacks. However, regardless of any legal requirements, MySpace's proposed cuts look like they're a done deal.
MySpace = Friendster?
MySpace has had a tough time lately, especially when it comes to fighting off its rival, Facebook. While MySpace shrinks, Facebook is growing. In May, Facebook officially overtook MySpace as the most popular social network in the United States. Months earlier, Facebook's global presence doubled that of MySpace.
While MySpace's fortunes do not look good, it could still live on as a popular hub for music pages — one of MySpace's strengths. I doubt MySpace will suffer a Friendster-like fall, but it's its days as a center of activity for personal users could be over.
Lessons for Facebook
Despite Facebook's recent success, and its continuing domination of the social networking scene, there could be some trouble up ahead for the new king of the social networking sphere. Facebook has recently experienced some very MySpace-like problems such as issues with spam, malware, and phishing. But Facebook also has to contend with its problems of its own making, including privacy issues, management indecision, user revolts over redesigns, conspiracy theories, and even censorship.
While Facebook has survived a fair amount of recent scandal and user outrage, Zuckerberg and company need to tread lightly. MySpace may be sinking, but it's only a matter of time before something else will rise up to challenge Facebook's growing empire.