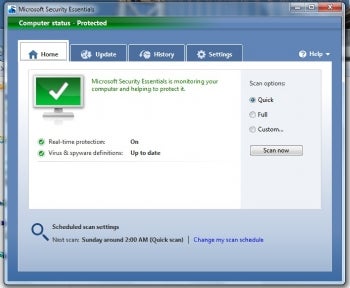 Microsoft today released a limited beta version of Microsoft Security Essentials, a free antivirus application for users of Windows XP, Vista, or 7. The new app, which will replace Windows Live OneCare, aims to cover the basic security needs of home users, and its easy-to-use interface appears to be taking the right approach to the task.
It's easy to get started with Microsoft Security Essentials. When you launch it for the first time, the program will download and install Microsoft's most up-to-date virus definitions and then scan your system. Once installed, the software keeps current by automatically downloading new virus definitions daily via Windows Update.
The Microsoft Security Essentials interface is clear-cut and cleanly designed. At the top of the window, you'll see your computer's protection status–protected, partially protected, or unprotected. Everything else appears in four tabs: Home (which shows you an overview of your settings, and has a Scan Now button), Update (where you can manually update your virus-definition files), History (which logs all of the malware cleaned from your system) and Settings (self-explanatory).
You'll likely spend most of your time on the Home tab; "set it and forget it" aptly describes Microsoft Security Essentials. The default settings are appropriate for most users, though I would have expected Microsoft Security Essentials to offer some of the options– to scan removable drives and to check for updates before scanning your system, for example–on the first run-through.
Regrettably, some of the settings are a bit cryptic. For example, on the Settings tab under 'Default actions', Microsoft Security Essentials defaults to 'Microsoft Security Essentials' recommended action' for all of the options–without identifying the recommended actions. You have to poke around in the help system to find out what the recommended actions are.
In addition, I was initially confused because Microsoft Security Essentials doesn't mention within the app that Windows Update automatically installs new virus definition files. As a result, you might suppose that you must constantly install new virus definition updates manually. A simple note on the Update tab would be a welcome clarification.
Whether this software can help Microsoft corner the PC security market remains to be seen, but Microsoft Security Essentials is a user-friendly antivirus app that should cover the basics for most users. Look for more about Microsoft Security Essentials–including malware detection and removal testing–as its official, final release approaches, and visit our Security Topic Center for ongoing coverage of security news and products.