This morning, the world is sending tweets of dissatisfaction to Microsoft over Outlook 2010's poor display capabilities. The Email Standards Project — a group dedicated to improving Web standards support and accessibility in e-mail — has started a grassroots Twitter campaign asking Microsoft to improve the way Outlook 2010 will render HTML-based e-mail. Currently, Outlook 2010 is being tested in private beta.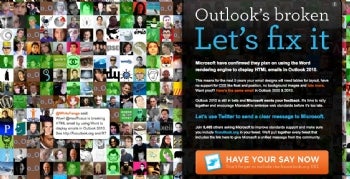 The group's online headquarters is the Website fixoutlook.org, which tracks the number of people joining ESP's campaign to lobby Microsoft. The site also features a link to let you get in on the action. By clicking on "Have Your Say Now," the site opens up your Twitter profile with a message directed at the Microsoft Office Twitter account: "Wow! @msofficeus is breaking HTML e-mail by using Word to display emails in Outlook 2010. See http://fixoutlook.org and RT." If you include the fixoutlook URL, your Twitter profile picture will be displayed on the campaign Website.
Logic of the Campaign
If you're an Outlook user, then you've probably noticed that any e-mail you receive containing images and other design elements looks completely different in Outlook than it does when you see it online or in another e-mail client. That's because Microsoft has, since the release of Office 2007, tied Outlook to Microsoft Word's HTML rendering engine instead of Internet Explorer's. Microsoft says its primary reason for doing this was to let Outlook users take advantage of Microsoft Word's editing and formatting capabilities. But that meant Outlook lost its capability to properly interpret e-mail messages based on HTML.
This can be problematic, because many large and small businesses use design templates to send out newsletters, advertisements, bills, and other notices by e-mail. Since these templates are based on the same design standards as a Web page, it would make sense to use a Web browser's rendering engine to display these messages — something tha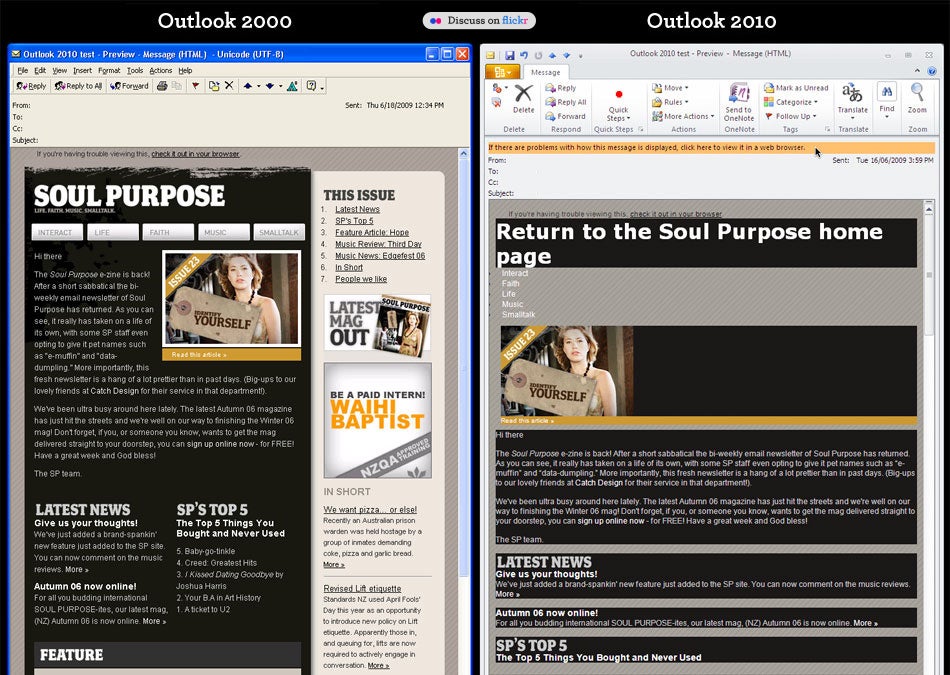 t Outlook did before Office 2007. The result of not using IE's rendering engine is that any e-mail with background images, specifically placed headlines, or side panels doesn't look the way its designer intended when displayed in Outlook. Take a look at this picture comparing an HTML-based e-mail in Outlook 2000 and in Outlook 2010 to see the difference (click the image to enlarge it).
Microsoft's decision to tie Outlook to Word is very shortsighted, according to ESP, since Outlook 2007 has only a 7 percent market share among e-mail clients. So while Microsoft Word's capabilities may augment the experience for Outlook-to-Outlook users, it handicaps anyone trying to open a Outlook-created e-mail with other e-mail clients like Mozilla's Thunderbird or Apple's Mail.
Outlook 2010 Beta be Better
Microsoft Office 2010 products, including Outlook, are currently in an invite-only beta testing phase. Redmond often allows the general public to participate in its beta testing phase, but decided against this strategy for Office 2010.
It's unclear how many people are testing Outlook, but when it announced Office 2010's beta phase, Microsoft said the test group would include thousands of users.
Despite its smaller beta group, Microsoft may get more feedback about Outlook 2010 than it bargained for. At the time of this writing, ESP's Twitter campaign has registered well over 10,000 tweets and is growing fast.
Office 2010 is slated to hit stores in the first six months of next year, and will come in 32- and 64-bit versions.