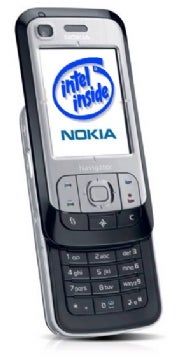 Plenty of questions linger regarding Intel and Nokia's partnership, but one thing we can count on is the two powerful tech players will rattle the mobile landscape. The Intel and Nokia partnership, announced yesterday, was slim on specifics but brimming with potential as both announced they would collaborate on a mobile-computing partnership.
The duo has the very real potential to shower consumers with dozens of shiny new Nokia and Intel products from super-smart smartphones that transmit voice and data at lightning speed and efficiency or something like a hybrid netbook/notebook that fits in your shirt pocket.
We will have to wait and see what becomes of the partnership because both executives from Intel and Nokia were mum on what type of gizmos we will be seeing and when. While the brunt of the announcement focused on explaining how both would deliver a new mobile platform, such as Mobile Internet Devices (MIDs), it's what was not said that may generate the most interest and should have Apple, AMD, and other mobile players interested.
Intel Partners Scratch Heads
While Intel and Nokia skimped on specifics, left dangling in the wind are questions about how this announcement will impact Intel's relationships with other companies it has longstanding relationships with. For example, Intel has made significant inroads with Apple, where many of its Macintosh computers are based upon Intel CPUs – will an Intel powered Nokia iPhone competitor strain Apple's relationship with Intel? Concerns should also surround Intel's relationship with Microsoft – will an Intel powered Nokia MID running Android or Linux impact Microsoft's sales of Windows Mobile?
Nokia, Intel Marriage: Jealous?
One thing is certain: Intel may be taking a big risk with its dive into the mobile wireless device market with Nokia. Intel has to be careful not to upset its current partners, yet still work with Nokia to deliver new and impressive devices to consumers. Perhaps, the biggest winner here will be AMD, which has already made inroads with Gateway into the netbook market and is poised to challenge Intel in the low cost computing arena.
If They Were Smart . . .
Still more questions remain about WiMax and alternative operating systems (Android and Linux). The smart move for both companies would be to quickly introduce a MID that shouts innovation. That innovation could come in the form of integrating WiMax into an Android based tablet, which can switch between various wireless modes, while providing the features of a Kindle and iPhone combined, add Bluetooth for a headset and viola, the companies would have something that could compete against netbooks, Kindles and iPods.
Together Intel and Nokia have the technology to make this happen. Nokia has already unsuccessfully dabbled with tablets and Intel already has experimented with cellular phone technology, so both companies have the background to make something happen quickly, and to become masters of the wireless market. Unfortunately, both companies may have to tick off some of their existing partners, at least a little, to seize the day and make this new relationship deliver something significant.