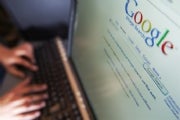 Google Web sites including its English search engine became inaccessible in China late Wednesday, following the country's criticism of Google last week for serving up pornographic search results.
China appeared to block sites including Google.com, Gmail and Google Docs around 9:30 p.m. local time, when complaints about the sites not loading began appearing on Twitter. Attempts to visit the sites timed out or returned a "connection interrupted" message.
A Chinese government-backed Internet watchdog criticized Google last week for allowing links to pornographic Web sites to appear in its results. A news program broadcast by state-owned CCTV drew widespread attention to the issue when it showed google.cn, the company's Chinese-language search engine, returning the links based on English searches.
Google this week said it had developed an automated system to remove pornographic results from searches on google.cn. But links to porn still appeared in searches using google.com in China earlier on Wednesday.
Google.cn could still be loaded in China on Wednesday night.
Some Twitter users reported spotty access to Gmail and google.com returning around 11 p.m. local time, but others still said the sites would not load.
Google.com appeared to be blocked through interference with the DNS (Domain Name System). The DNS translates alphabetic URLs such as google.com into a corresponding IP (Internet Protocol) address so the Web site's server can be reached. Google.com could be viewed by directly visiting its IP address.
Google did not immediately respond to a request for comment.