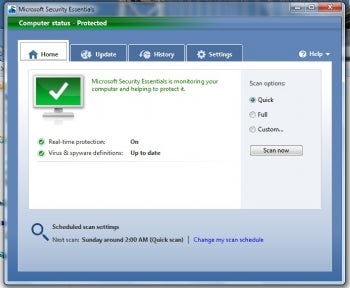 The biggest question on everyone's minds with regard to Microsoft Security Essentials is how well it can detect and remove malware. The early returns are in, and Microsoft Security Essentials performed well overall in initial malware detection testing provided to PC World by AV-test.org.
When put against AV-Test's "WildList" collection of 3,194 recent, common viruses, bots, and worms, Microsoft Security Essentials detected and removed each and every one of the malware samples. How does this compare to other security products? AV-Test coordinator Andreas Marx notes that "several other [antivirus] scanners are still not able to detect and kill all of these critters yet." In addition, Microsoft Security Essentials put up a perfect score with zero false positives—it didn't flag a single clean file as being malicious. AV-Test also took an initial look at Microsoft Security Essentials' rootkit detection, testing it against a few rootkit samples, and found "nothing to complain about."
Previously I took a look at Microsoft Security Essentials, and found it to be a straightforward, easy-to-use piece of software. While AV-Test's initial results aren't exhaustive, if they are any indication of Microsoft Security Essentials' malware detection capabilities, you may be pleasantly surprised. Note that Microsoft Security Essentials will only give you basic anti-malware protection; If you're looking for more comprehensive protection, see our latest security suites roundup.
Have you tried the Microsoft Security Essentials beta? Like it? Don't care for it? Share your thoughts by posting a comment below, or telling us via twitter @pcworld.
Note: When you purchase something after clicking links in our articles, we may earn a small commission. Read our affiliate link policy for more details.