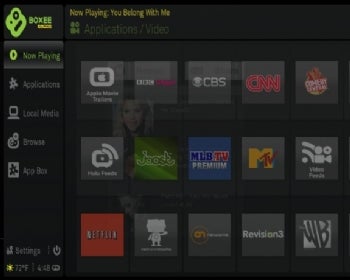 Boxee has quickly garnered street cred for turning Mac and Ubuntu systems into good-looking media centers. Now, PC users can get in on the fun: Boxee has publicly released the free alpha version of its software for Windows XP, Windows Vista, and Windows 7. I took the software for a spin today and discovered that it transformed my PC into a sweet interactive television/radio/media player.
The open-source Boxee platform brings together apps from such Internet media providers as CBS, Hulu, MTV, Netflix, Revision 3, and The WB–and Boxee has announced, along with its Windows release, new content from Digg, Current, MLB.TV, and Tumblr.
Installing Boxee was easy, as was getting started. The slick, attractive interface fills the screen and is heavy on blacks and grays. The main menu, which hides itself on the left until you mouse over it, directs you to applications (Internet-based content such as YouTube or CNN), local media (content on your computer, such as downloaded songs or movies), a browse feature, and the 'App Box', where you can download more applications developed for the platform. The main menu also reports the time and weather–helpful if you tend to get engrossed in media viewing.
As much as I liked its smooth design, I found Boxee's interface annoyingly difficult to navigate on my PC. After I clicked into a video ("Stand" by Rascal Flatts), it took me a few minutes to realize that I needed keyboard shortcuts to get back to the main screen–or to cycle through the main menu again. In general, I'm a fan of keyboard shortcuts, but Boxee provides no on-screen indicators of the necessary key commands. There is no back button, either–so you have to rely on the Esc key and the backspace key to return to where you were before. I hope that Boxee addresses these issues as the software progresses from alpha to final code.
Video playback is the main event on Boxee, but it wasn't as stellar as I had expected. Video streamed from many of the apps–including Hulu, MTV Music, and The WB–sometimes stuttered over my office's ethernet connection. On the other hand, video from Apple movie trailers, for example, played smoothly. Playing videos seemed to bog down the system; when I moved the mouse, the video would pause or stutter. Likewise, trying to play video in the background while searching for more apps caused the entire platform to run slower. Of course, if you contented yourself with using Boxee as a TV replacement, the multitasking issues would vanish.
Music playback from services such as Last.fm and Pandora sounded fine, with no detectable skips or lags in the music. Still, I was a bit disappointed at being unable to resize the window when I was just listening to music. Picture slideshows from apps such as Flickr and The Big Picture played nicely, and the full-screen format was particularly effective for those apps.
Boxee's integrated social networking aspect was neat, too: If you add friends on Boxee, you automatically receive recommendations and updates from them; and you can browse their Flickr albums and watch shows simultaneously. Outside social networking services such as Twitter and Digg let you automatically update your feed and recommend videos, music, and pictures through the Boxee platform.
Even in this early iteration, Boxee looks promising, with its attractive and enveloping interface. Since Boxee for Windows is in the Alpha stage, it will be changing constantly as its developers receive feedback. As yet, it does not officially support 64-bit systems. I expect that issues like video quality and lag time will improve as the software progresses toward its final form. Beyond that, my biggest gripe with Boxee is that it currently runs in full-screen format only–a definite disadvantage for those of us who want to watch Taylor Swift music videos while writing software reviews.