Didn't school just get out or something? Suffice, Gateway has introduced a handful of new PCs into the market under the "back to school" banner. The systems are split into two camps. The first represents Gateway's premiere in the small form factor market. And in this category rests a single new PC, the SX2800-01. At one-third the size of traditional systems, this lil' PC–"the runt," one could say–trades graphical dominance for the ability to wedge itself into the tiniest nooks and crannies. Kind of like a small puppy.
The $500 system is actually represented fairly well both outside and under the hood, based on a quick glimpse at the loadout:
Intel Core 2 Quad Q8200 (2.33GHz)
Integrated Intel Graphics Media Accelerator X4500
Intel G43 Express Chipset + ICH10
4GB DDR3 SDRAM
640GB SATA hard drive
Slightly more eye-opening are the connections this little fire starter packs into its miniature frame. At least, I did not expect a system of this size to come with nine total USB ports, in addition to an eSATA, mini-FireWire 400, and HDMI port. Gigabit Ethernet, a VGA port, and integrated 5.1 audio rounds out the list–and what a list it is. You don't often find this kind of connectivity on more expensive systems.
The DX Series
As mentioned, Gateway is also refreshing its DX line of performance-themed systems. Although the company has yet to release the final configurations that it plans to sell starting late June, Gateway has gone ahead and leaked out two potential configurations–the DX4300-03 and DX4820-02. Both mini-towers use an identical Gateway chassis and, even given the innate differences between Intel– and AMD-based motherboards, offer identical connective offerings. The machines come with a total of eight USB sports split down the middle between the systems' fronts and backs, a FireWire 400 port, VGA and DVI monitor outputs, and an HDMI connection.
Similarly, both machines offer Gigabit Ethernet connectivity and integrated 7.1 audio, and both throw an 18X DVD reader/burner into the mix as well. But I promise you, there are differences between these two systems, and they're more than just your typical "one's an AMD, one's an Intel" split.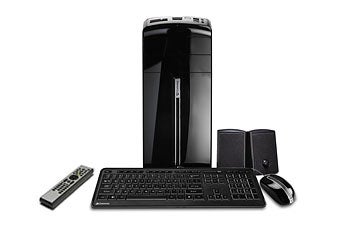 DX4300-03
MSRP: $750
AMD Phenom X4 9750 (2.4GHz, 512KBx4 L2 cache, 2400MHz)
ATI Radeon HD 4650 graphics card (1GB video memory)
AMD RS780 chipset
8GB DDR2 SDRAM
1TB SATA hard drive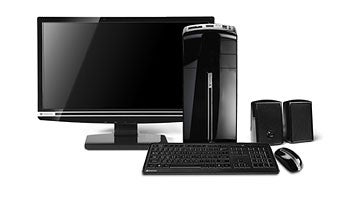 DX4820-02
MSRP: $900
Intel Core 2 Quad Q8400 (2.66GHz, 4MB L2 cache)
NVIDIA GeForce G210 graphics card (512MB video memory)
Intel G43 Express chipset
8GB DDR3 SDRAM
750GB SATA hard drive
Gateway FHX2300 23″ HD Widescreen LCD