Apple's App Store has approved the first application to contain sexual material. The move, which has been anticipated for a few months now, will allow parents to test the iPhone's new parental controls to filter what their teenage children get to see.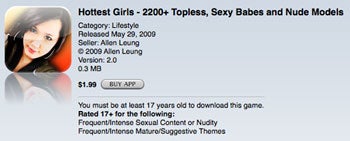 The first app to see the light of nudity in the iTunes App Store is called "Hottest Girls," and is priced at $1.99. Until now, this application was delivering photos of women in lingerie, but the latest update, approved by Apple, takes it up a notch with pictures of nude women.
Merely a few weeks ago, this kind of application wouldn't have joined the ranks of Apple's App Store. But the ratings system introduced for iPhone and iPod Touch apps with last week's 3.0 software update lets adults use parental controls to limit what their underage children can see.
The iTunes rating for the Hottest Girls application is 17+, and features "Frequent/Intense Sexual Content or Nudity" and "Frequent/Intense Mature/Suggestive Themes."
If an adult downloads this application and then hands over his phone to an underage person, the adult can first turn on the iPhone parental controls (located in Setting>General>Restrictions) to make the explicit app simply disappear from the home screen. Disabling the parental controls will bring the application icon back in the menu. Parental controls can also be set from iTunes.
More to Come
A wave of similar applications can be expected over the coming weeks in the App Store. Now that the door is open, adult content providers such as Playboy (and so many others) get a new market. And with in-application purchases and updates, I can see quite a lucrative market coming.
But at a certain level, applications with explicit content will stir an even larger debate over what should and should not be allowed in Apple's App Store. Applications such as Baby Shaker managed to get Apple in hot water earlier this year.
Other applications that had a bumpy ride so far, such as South Park and Nine Inch Nails (NiN), may now have an easier time getting through Apple's approval process. Meanwhile, pornography is still a very big industry, and the Cupertino company could make some good money (it takes 30 percent of app sales) out of those willing to have a bit of naughtiness on their iPhones.