A tectonic shift has taken place for the digital age: ad rates for popular shows like The Simpsons and CSI are higher online than they are on prime-time TV. If a company wants to run ads alongside an episode of The Simpsons on Hulu or TV.com it will cost the advertiser about $60 per thousand viewers, according to Bloomberg. On prime-time TV that same ad will cost somewhere between $20 and $40 per thousand viewers.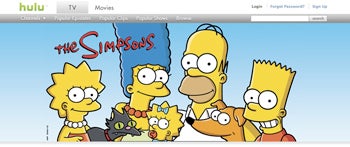 Why Higher Online Ad Rates?
Online viewers have to actively seek out the program they want to watch, so advertisers end up with a guaranteed audience for their commercial every time someone clicks play on Hulu or TV.com. Online programs also have an average of 37 seconds of commercials during an episode, while prime-time TV averages nine minutes of ads.
David Poltrack, chief research officer at New York-based CBS, cited a Neilsen discovery that fewer online ads means viewers are twice as likely to remember a commercial they've seen on Hulu than on television, Bloomberg reported.
The Internet is not the Answer . . . Yet
Despite higher ad rates, online viewing is not about to save television from declining ad rates and viewerships, because online sites like Hulu and TV.com do not yet have wide enough audiences to replace television viewers. Consider that 17.6 million people crowded around TV sets on April 6 to watch this year's NCAA basketball championship, while online viewing for the entire March Madness tournament leading up to the championship game came to only 7.52 million viewers. The online audience simply isn't there yet.
Old Model, New Medium
Even though the audience is small, higher online ad rates for The Simpsons means the digital ceiling has been broken. In the future, as more people gravitate toward on-demand Internet viewing, it's entirely possible sites like Hulu and TV.com might, just might, replace traditional television viewing. But If online viewing is the future, we're still a long way off from that point.
It's interesting to note that sites like Hulu and TV.com are becoming successful simply by dusting off an old format and making it more palatable for online audiences. Instead of loading up shows with commercials, just throw in a few ad spots here and there. Instead of running shows at a specific time, put them online for a limited run and let people enjoy them at their leisure.
Reviving an old format is exactly what Apple did with the iTunes Store, an another online success story. Instead of going for subscriptions or some other newly-thought-out pay format, Apple just did away with the physical store, while still selling people something they could take home — a digital file instead of a CD or LP. There are some who object to buying digital music, since some prefer the tactile feel of having an album with cover art and liner notes. The quality of sound you get from digital files versus a CD has also been pointed out as a drawback. But the success and widespread adoption of the iTunes Store shows that a large segment of people are happy with Apple's digital retail model.
Reformatting is Not for Everyone
But I don't think reformatting old models to suit online needs will work for every business. Newspapers, for instance, simply can't run multiple full-page ads online, and the death of the newspaper classifieds is already well-documented. Big ads work in newspapers because they're eye-catching, and can easily stop interested readers in their tracks.
The online equivalent of pop-up ads and "welcome screens" have far less impact, because, well, they're more annoying. When I land on a particular news site, I'm following a link from somewhere else, or checking out the headlines. I'm on a mission, and am less likely to patiently sit through an ad for the latest car or full-color laser printer. I just don't care. I'm not sure if the future of newspapers lies in public trusts, micropayments, or whatever tomorrow's newspaper cure-all is, but I can't see dailies reviving themselves online with the full-screen and pop-up ads they're running now.
But maybe that's a good thing. The Simpsons online may have just had a financial breakthrough, but if online episodes get bogged down with nine minutes worth of commercials — like their TV counterparts are — well, sites like Hulu and TV.com might just kiss that glimmer of money-making hope goodbye.