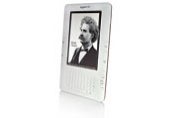 I've owned an Amazon Kindle 2 since the e-book reader became available in February. I've traveled with it on several occasions. And though the jury's still out for me regarding reading fiction on a Kindle, I strongly recommend it for business travelers who need to keep up with newspapers, magazines, and business documents on the go. Here are three reasons why.
1. You Don't Have to Sprint to the Airport Newsstand
Before a recent flight from Hawaii to San Francisco, my partner and I faced an abysmally long security queue. I was worried we were going to miss our flight. And making a quick dash to the newsstand to pick up reading material was out of the question.
Then I remembered my Kindle 2. As we inched our way through the endless security pile-up, I turned on the e-book reader's wireless connection and bought the current editions of The New York Times, the Wall Street Journal, and Newsweek. Within a few minutes, each publication was delivered wirelessly to my Kindle 2. In fact, I started reading the Times while still standing in line. And yes, we made the flight–but just barely.
2. You Can Comfortably Read a Newspaper in Coach
Have you ever tried to read a newspaper in a crowded coach cabin? (And did I just sound like Andy Rooney, or what?) You have to fold the paper just so, and then position your arms in a certain way, so your elbows don't make contact with your seatmate's teeth. That's not the case with a Kindle. You can comfortably read papers, as well as magazines, books, and blogs, with ease, no matter how sardined you are.
Tip: M-Edge's Platform Jacket ($30) for the Kindle 2 does double-duty as a protective cover and book stand. You can prop up your Kindle 2 on your seatback tray and read almost entirely hands free (you've got to push the Next Page and Prev Page buttons, of course).
3. You Can Read Documents and Web Content
If you've got a lot of work-related reading to do in flight, you've traditionally had two options: (1) Print out and pack what you need, which adds bulk to your carry-on bag; and (2) Read it on your computer, which depletes your laptop battery.
The Kindle gives you a much better option for reading documents and even Web content in flight–one that adds no additional weight to your bag (because you don't need to carry printed pages), doesn't drain your laptop/netbook battery (so you can use your portable PC for something else, like watching video), and doesn't require in-flight Wi-Fi.
To read documents on your Kindle 1 or 2, most files will first need to be converted to the Kindle's native formats (.azw and .azw1). (The Kindle DX supports PDF documents as well.)
There are a couple of ways to do this. The easiest is to e-mail your Microsoft Word files, PDFs, HTML pages, and other documents to your Kindle e-mail address. (If you didn't set up a Kindle e-mail address, you can do so by signing in to Amazon's Manage Your Kindle page.) The next time you turn on your Kindle's wireless network, the document(s) will be automatically converted and downloaded to the device. The conversion process takes about 5 minutes, usually. However, Amazon charges 15 cents per megabyte for transferring documents to your Kindle wirelessly via e-mail. That's not much, and the convenience is worth it. But if you plan to send dozens of documents on a regular basis, the cost can add up.
The other option is free but a tad more complicated. You e-mail the file you want to transfer to your Kindle address, but you add free to the address. For example, if your Kindle e-mail address is yourname@kindle.com, you'd e-mail the attached file to yourname@free.kindle.com.
Within a few minutes, you'll receive an e-mail from Amazon Kindle Support. The e-mail will include a hyperlink, which, when clicked, will download the converted file to your computer. Now you can drag and drop the file into your Kindle's Documents folder, when the e-book reader is connected to your computer via USB cable. Amazon outlines the steps for transferring documents and files to a Kindle on its Web site.
By the way, you can avoid the conversion process if you save Word documents as plain text files. The .txt format is one of the few mainstream computer document formats that Kindles recognize. Of course, your document will lose all its formatting.
The cleanest, simplest way to transfer Web content is to copy a Web page's text into a .txt file. Here's how:
Highlight the text and copy it to the clipboard. Tip: Some Web pages give you a "format to print" or "single page" option, which puts the entire article on one Web page, making it easier to copy the text.
Paste the text into Word or other text editor. Save the file in .txt format.
Connect your Kindle to your computer. Drag and drop the .txt file into the Kindle's Documents folder.
If you want to copy all of a Web page's content, including its images, the easiest way is to save the page as a complete Web page and e-mail that document to your regular Kindle address (not the one with "free" in the address).
An alternative process, which I haven't tested, is to use free software such as Mobipocket Creator to create a Kindle-compatible e-document from HTML and other files.
The Wrap Up
Paying $359 or $489 for the Kindle 2 or Kindle DX, respectively, may be way too much for many people in this economy. But any device that can lighten your carry-on load, and yet keep business travelers productive and entertained during long flights, is worth considering, if your budget allows.
Keep on Clicking
Mobile Computing News, Reviews, & Tips
Laptop Buying Guide: The right laptop for you depends on your personality type. Are you a corporate raider, an average Joe, or a jet setter? Read our Laptop Buying Guide to find your type–and get tips on buying laptops and netbooks.
Lenovo ThinkPad T400s: Like the ThinkPad T400, Lenovo's T400s is a solid all-purpose business machine. But the new laptop, which starts at $1599, is slimmer, has more ports, and features integrated wireless cellular networking.
Make More Room for Documents: Many netbooks and laptops have small screens, at least compared to the monster display on your desktop. So it's helpful to give Word documents, Web pages, and other files all the space they need. One way to do this is to move the Windows taskbar, which normally lives at the bottom of a screen, off to the side. Rick Broida offers step-by-step instructions. (Hint: it's really easy.)
Suggestion Box
Is there a particularly cool mobile computing product or service I've missed? Got a spare story idea in your back pocket? Tell me about it. However, I regret that I'm unable to respond to tech-support questions, due to the volume of e-mail I receive.
Contributing Editor James A. Martin offers tools, tips, and product recommendations to help you make the most of computing on the go. You can follow him on Twitter. Jim is also the co-author of Getting Organized in the Google Era, to be published by Crown in March 2010. Sign up to have Mobile Computing e-mailed to you each week.