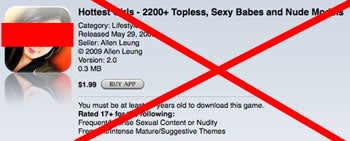 Apple has apparently changed its mind about allowing applications with explicit content in the iPhone App Store. After approving earlier today the first app featuring photos of nude women, Apple has now removed "Hottest Girls" from the App Store.
UPDATE: It appears Apple has not banned "Hottest Girls" application. The app developer claims in a note on his site that the application is "sold out" due to a strain on the servers. "Hottest Girls" loads the images it displays from the developer's servers and the "popularity of this app" could crash them, he says.
The developer claims he asked Apple to temporarily suspend the sales of this app until the problem is solved. Those who already purchased the application will still be able to use it, the message to his site says.
The rating and parental controls system introduced with the iPhone 3.0 software update opened a new door for explicit content publishers. The first one to get approved by Apple was "Hottest Girls" ($1.99) this morning, which also got people talking about how appropriate this move was.
But Apple appears to have wasted little time, and quickly removed "Hottest Girls" from the App Store, hours after approving the application. The explicit content app was rated as 17+ for "Frequent/Intense Sexual Content or Nudity" and "Frequent/Intense Mature/Suggestive Themes".
Will Apple's First "Approved" iPhone Porn App Last? asked my colleague David Murphy today. Well David, I think we've all got our answer now.
Note: Other 17+ rated applications are still available from the Apple App Store at the moment, and only "Hottest Girls" seems to be blocked specifically.