You run, and you jump. That's all there is to Icy Tower, a simple platform game involving Harold the Homeboy's quest for the top of the tower. Run and jump to the highest ice platform while slipping and sliding around. If you can manage to clear more than one platform at a time, you'll build up a meter that lets you perform huge, screen clearing jumps.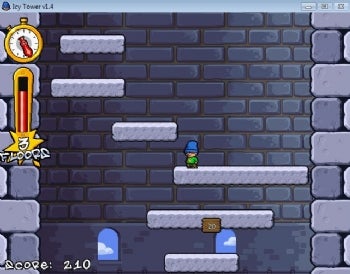 Icy Tower is fun, and you'll replay it many times to try and get a higher score, but frustration can often be the rule of the day rather than fun.
First, the combo meter and super jumps seem to happen at random times. It's not in the instructions, but buried in the FAQ, a clue tells you to try to clear two platforms at once and jump off the walls to build up the meter. This isn't consistent enough to make this a skill-based game. More often than not, your super jumps (including a cartwheel that jumps the length of the screen) come out at random times, goofing up your precision jumps and forcing you to lose the game.
And there's only one life. You fall off the screen, it's Game Over, Man.
There are a lot of little extra features, such as the ability to download and install custom characters (which can't be done from the in-game interface, but only through a copy-paste in Windows), and a bit of a social networking element with online profiles and replays.
The music is catchy techno-pop during the game, but the startup screen has a really grating tune that will make you reach for your volume control.
The FAQ says there probably won't be a sequel, though Harold's Hills has the same starring character. If there were one, adding in multiple lives, power-ups and the other things that make platforms fun might be a good idea.
Note: It's nice that it asks permission, but Icy Tower tries to install a toolbar to your Web browser. Someone clicking through without realizing the "recommended" Free Lunch Toolbar is the last step will get their default search changed, their default homepage changed, and many other irritating changes to Web browser functionality. Be sure to uncheck the toolbar at the end of installation. If you accidentally install it, it's easily uninstalled by going to Control Panel -> Programs -> Programs and Features (for Internet Explorer) or Tools -> Add-ons -> Free Lunch Design Toolbar -> Uninstall.