Many people around the world yesterday were saddened over the news of the sudden death of pop star Michael Jackson. But the King of Pop's passing also impacted the tech w
orld as millions of fans flocked to Twitter, Facebook, and various news sites to soak up Jackson-related information. The result was an impact on the Internet we haven't seen since the Great Google Lapse of 2009.
TMZ: S coop or Fail?
TMZ was the first news service out of the gate with news about Michael Jackson's death just after 3 p.m. Pacific Time. Initally, TMZ quoted unnamed sources about the singer's death, but did it really have the scoop?
Maybe not, says technology writer Mike Elgan on his personal blog The Raw Feed. Although Elgan can't say for sure whether TMZ had solid information, the writer notes that someone had created a phony news story using an online tool that creates fake news items. The bogus story was from a nonexistent news service called Global Associated News. Before long, tweeters were linking back to GAN's phony report, with links growing at a rate of 10 per second for half an hour, Elgan says. The funny thing is, the tweets and the fake story all happened before TMZ broke the news using anonymous sources.
So did TMZ base its initial report on the phony news story or did it base its report on legitimate sources of information? I'm guessing TMZ's story was the real thing, but Elgan's theory is an interesting take on what can happen when news sources and social media collide.
Twitter Rumors
While some tweets were linking back to the fake Michael Jackson news story, other Twitter users were having their own fun with the Twitter-based rumor mill. Lost among the Michael Jackson tweets were claims that other celebrities had also died. including Jeff Goldblum and Harrison Ford. Those stories turned out to be bogus, but many people were taken in by the hoax, at least initially.
Twitter and AIM Fail
Twitter's infamous fail whale hasn't been seen very often in recent months, but yesterday it was on full display during the Jackson fallout. Twitter co-founder B
iz stone told The Los Angeles Times the microblogging site "saw an instant doubling of tweets per second the moment the story broke." Twitter hadn't seen that kind of activity since last year's U.S. presidential election. The result was a slowing of the entire service, and the fail whale made frequent, albeit brief, appearances throughout the Jackson news wave. Twitter's search capabilities were also briefly affected.
It's interesting to note that the voracious appetite for Twitter updates about recent problems in Iran has not seriously impacted Twitter. After days of tweets about election rigging and street violence there was no noticeable impact on Twitter's service, but Jackson dies and the Twitosphere comes crashing down under the weight of the singer's popularity.
AOL Instant Messenger also had problems, largely due to bad timing on AIM's part. The instant messaging service was scheduled for maintenance right around the time the Jackson news broke. Responding to PC World's inquiries about AIM's blackout, AOL put out the following statement: "At AOL our AIM instant messaging service was undergoing a previously scheduled software update which should normally prove routine. It proved not to be. There was a significant increase in traffic due to today's news and AIM was down for approximately 40 minutes this afternoon." Obviously, the news AOL referred to is Jackson's death. The company said it has "never seen anything like it in terms of scope or depth. Historically, celebrity news prompts a worldwide outpouring with several key consumer behaviors — searching, sharing and reacting to the news followed by online tributes has become the modern way to mourn."
WWW Fail
We've been hearing doomsday predictions about the end of the Internet for some time. The basic premise is that in the next few years, the Internet's infrastructure needs a drastic overhaul before it bursts apart at the seams.
While some would like to believe otherwise, the news of Jackson's death didn't kill the Internet. However, some segments of the World Wide Web definitely experienced overloads that caused some sites to go dark or at least slow down. The load times for major news sites slowed down from four seconds to nine seconds, according to Venture Beat. Impacted sites included ABC, AOL, LA Times, CNN Money, and CBS.
The Los Angeles Times, one of the first trusted news source to verify Jackson's death, reported nearly 2.3 million page views in just one hour — the highest traffic the newspaper has experienced in such a short time. That page view record beats any hour during the Times' highest traffic day of all time — November 5, 2008, the day after Barack Obama was elected President.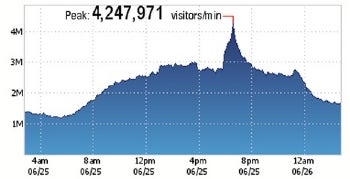 Akamai, a tech firm that tracks Internet usage, reported that North America's most popular news sites experienced a traffic influx 20 percent above average during the height of the Jackson story.
Final Impact
While some portions of the Internet were creaking under the pressure, Wikipedia users engaged in a brief editing war over Michael Jackson's entry. Unsurprisingly, Wikipedia editors eventually locked out changes to Jackson's page until hard news sites verified Jackson's death. By this morning, Michael Jackson had taken the top four spots on the iTunes 100 top albums sold.
It's interesting to note that despite the constant tweets and TMZ's early pronouncement, a lot of people were reluctant to believe Jackson was gone until a more credible news source — so-called old media — verified the entertainer's death. So Jackson's death didn't bring down the Internet, and it reminds us that new media like Twitter, Facebook, and The Huffington Post can only enhance our news experience, but these online resources are no substitute for traditional, hard-nosed reporting.